Recently, a team of scientists at the University of California, San Diego announced that they developed a vaccine for acne. Yes, you read that correctly—a cure for acne is coming. For the 50 million people diagnosed with with this condition every year (many of which include my clients), this is all too exciting. After all, acne is a disease of the skin for which the cause is unknown. Subsequently, there has been no cure. Sure, there are ways to control it (via oral medications and topicals) but to finally have a cure? Wow. But, is it too good to be true? And most importantly, does this mean that clear skin is on the horizon for everyone?
Not necessarily. For those who deal with breakouts, I'm sure you've been on what seems like a lifelong search for a cure. You've bounced from this product to that product. You've sought advice from dermatologists, naturopaths, estheticians, your friends and online sources, all in hopes of finding some kind of solution. You hear of or read about an amazing product line that has cleared up someone else's skin, only to find that when you use it, it does nothing—or it even makes your skin worse. Why is this?
What you need to know is that not all types of acne are equal. Many of the popular "cures", including this potential vaccine, cannot work the same on everyone because everyone's acne is different. Just like all blemishes are different.
Let me give you an example. I'm sure many of you have heard of the prescription Retin-A. It's a retinoid (from vitamin A) that was originally developed in the 80's to treat acne. Doctors later discovered that it also improved visible signs of aging. (I actually knew one of the doctors who was instrumental in getting it FDA approved in the 90's for the treatment of wrinkles!) Once word got out that there was a prescription that could "cure" acne, everyone raced to the dermatologist. Many people slathered on Retin-A, only to find that it made their skin worse! It increased irritation and caused extreme dryness and discomfort to the skin.
The reason for this is because, again, not all types of blemishes are the same. A prescription retinoid works best for the combination of whiteheads, blackheads, closed comedones and general clogged, non-inflamed bumps. These are all technically considered "acne". However, this type does not include red, sore, inflamed pustular acne or cysts.
Retin-A works by restoring the organization of cells through increased cellular turnover in the epidermis. Acne is an inflammatory skin disease. Therefore, it is detrimental to further inflame the infected type of acne with retinoids through this increased cellular turnover. However, this is where the acne vaccine could work best. According to the lead researcher, the vaccine targets what is called P. acnes. This is the bacteria that causes infected, red pustule-type blemishes. The vaccine does seem to be good news for people who mainly experience this type of acne. (To further understand acne, I go into great detail about what actually occurs in the skin when you get a blemish and how to help it go away fast.)
I can't talk about a cure for acne without mentioning the oral prescription formerly known as Accutane. I must say that this has probably been the best acne "cure" for cystic acne to date. Many know, though, that its side effects can be severe. So much so that your doctor must closely monitor you throughout the whole course of the Accutane treatment. The prescription can work for many people, but as an esthetician and someone who specializes in acne, I consider it a last resort. In fact, in my 25+ years as an esthetician working with thousands of people with acne, I have probably suggested Accutane only around 20 times. Thankfully I have so many other great solutions–and here are 17 of them.
From a non-prescription standpoint, the challenge with skincare products is that many are simply reactive. They typically only work when blemishes are already present. To truly improve acne, prevention is everything. Rapid Response Detox Masque is really effective for getting ahead of breakouts (especially hormonal ones) to prevent them from appearing in the first place.
In the case of cystic acne, cortisone shots performed at the dermatologist's office have long been a go-to to. They relieve cysts quickly so that they don't linger for weeks. Luckily, there are other non-invasive options for visibly improving the appearance of cysts, like this one.
So, when is this cure coming? Based on the limited information available, the vaccine is still in the testing phase and will be for the next two years. We'll just have to continue with the the most effective existing methods and wait and see what this new vaccine will offer.
Three final thoughts. First, there is an upside to having acne and for some, consider yourself lucky that you have it. Second, most acne spot treatments don't work and you can read why here. Lastly, I offer a step-by-step guide for how to get rid of blemishes faster than ever with my Zit Care Kit.
Which skin care products are best for you? See our nine skin types or take the Skin Type Quiz and see recommended products.
Need expert advice from a licensed esthetician? Schedule a virtual consultation to get customized advice in person, over the phone or online via Skype or FaceTime.
For more expert advice check out the blog. Also sign up for our skin tip e-newsletter, follow Renée Rouleau on Twitter and Instagram and join the discussion on our Facebook page. You'll be your own skin care expert in no time. Get the #ReneeRouleauGlow!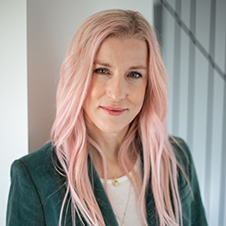 Celebrity Esthetician & Skincare Expert
As an esthetician trained in cosmetic chemistry, Renée Rouleau has spent 30 years researching skin, educating her audience, and building an award-winning line of products. Trusted by celebrities, editors, bloggers, and skincare obsessives around the globe, her vast real-world knowledge and constant research are why Marie Claire calls her "the most passionate skin practitioner we know."