A few years ago I discovered the best mineral powder with sunscreen from a brand called ColoreScience. Their mineral powder contains a powerful SPF 50, comes in a convenient self-dispensing brush for quick and easy application, and is approved by The Skin Cancer Foundation.
As a skin care expert and celebrity esthetician, one of my very best skin tips that I share with my clients is to dust the skin every few hours with a mineral powder with sunscreen to ensure that the skin is staying protected from the damaging UV rays.
Did you know that number one cause of premature aging (wrinkles, lines and brown spots) is caused from UV exposure from daylight and sunlight? It's not genetics, it's not smoking and surprisingly to many, it's not even age. In addition to wearing a moisturizer with sunscreen every morning (I love Daily Protection SPF 30 since my skin is very sensitive), protecting your skin every day by reapplying sunscreen is the very best way to slow down the effects of skin aging and ColoreScience makes it very easy to do so.
Let me share with you a few examples on how ColoreScience SPF 50 Mineral Powder has helped to protect my skin…
I use it when riding my motorcycle: When I'm not working, you might find me out on my Harley Davidson. A few summers ago, my husband and I rode our bikes all the way from Texas to the famous Sturgis Motorcycle Rally in South Dakota. We rode three 10-hour days out on the open road in the middle of August and another three days to get back. 2200 miles! When I ride during the hot summers, I always wear an open faced helmet since it lets more air in to keep me cooler, but it leaves my skin completely exposed to the sun and daylight. Not a worry for me! I kept my ColoreScience SPF 50 Mineral Powder in my bike bag and would dust it on my skin at gas stations and rest stops every hour and my skin didn't burn one bit. And trust me, my fair skin is very sensitive and burns extremely easily!
Read: Skin Care Tips For Motorcycle Riders
I use it on the beach: I went to Fiji a few months back, and it was my first beach vacation in 20 years. I would apply my Daily Protection SPF 30 and follow with a generous application of the SPF mineral powder. I would then reapply the mineral powder every hour and once again, my skin didn't get exposed to the damage from the sun's harmful rays. I even went snorkeling and since ColoreScience Mineral Powder is water-resistant, it held up beautifully in the ocean. This product is amazing–trust me!
Read: Five Essentials To Stay Tan-Free At The Beach
I use it on the airplane: Did you know that when you're in an airplane, you're closer to the sun therefore the UV rays are more powerful, and therefore more damaging to the skin? Aside from never requesting window seats to avoid an extra strong dose of UV (I always choose the aisle seat) I faithfully apply the mineral powder every hour over my makeup.
Read: Can Airplane Travel Increase Breakouts?
I use it every day: People tend to be extra cautious about protecting their skin when on vacation, but it is important to not underestimate the UV rays that you get on a daily basis. Skin-damaging UV rays can penetrate through clouds, windows in your home, office, or car, and are just as harmful in winter as in summer. So I keep the mineral powder in my handbag and apply it to my skin every few hours throughout the day. I also apply it to my hands, neck and any other exposed areas.
Read: Are You Neglecting Your Neck? Try This 3-Step At-Home Treatment
Check out the various ColoreScience products now available for purchase on my website:
-SPF 50 Mineral Powders available in Fair, Medium and Tan.
–Eyescreen SPF 30 to give powerful sun protection around the sensitive eye area.
–Lip Shine SPF 35 gives lips a natural shimmer and shield from the environment.
Do your skin a favor and invest in a good SPF containing mineral powder. You do have a say in the matter when it comes to how your skin will age and applying this extra layer of sun protection throughout the day can make all the difference in the world for years to come.
See the collection of ColoreScience products here.
Which skin care products are best for you? See our nine skin types or take the Skin Type Quiz and get products recommended.
Need expert advice from a licensed esthetician? Schedule a virtual consultation to get customized advice in person, over the phone or online via Skype or FaceTime.
For more expert advice check out the blog. Also sign up for our skin tip e-newsletter, follow Renée Rouleau on Twitter and Instagram and join the discussion on our Facebook page. You'll be your own skin care expert in no time. Get the #ReneeRouleauGlow!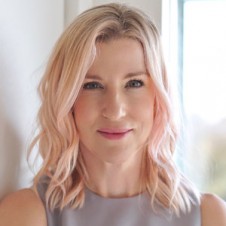 Celebrity Esthetician & Skincare Expert
As an esthetician trained in cosmetic chemistry, Renée Rouleau has spent 30 years researching skin, educating her audience, and building an award-winning line of products. Trusted by celebrities, editors, bloggers, and skincare obsessives around the globe, her vast real-world knowledge and constant research are why Marie Claire calls her "the most passionate skin practitioner we know."