When it comes to using skin care products, you definitely want to be using ingredients that are proven to give results and affect positive change in the skin. These are six of my favorites, that I faithfully use on my own skin as well as recommend to all of my clients.
Hyaluronic Acid. Water is essential for feeding the cells of our skin and keeping them looking plump, radiant, and youthful. Found naturally in your skin's dermis, hyaluronic acid holds onto water and provides tone and contour to the skin. When used in skincare products, it helps retain the skin's natural moisture balance. Amazingly, it can hold up to 1000 times its weight in water, resulting in enhanced elasticity, lubrication, plumpness, and moisture in the skin. With continued use, the skin's water content improves daily and fine lines and wrinkles become plumper and therefore less visible. It focuses mainly on delivering water to thirsty skin types, so it's well tolerated by even the most oily, acne-prone skin type. Suggested product: Skin Drink Concentrate
BHA (Salicylic Acid). It's a keratolytic beta hydroxy acid famous for its ability to smooth the skin,  reduce acne-causing bacteria and oil to prevent blemishes and fade discoloration to promote more even-toned skin. Of all the exfoliating acids, salicylic has the best ability to penetrate the pore lining to help clear out impurities for the reduction and prevention of blackheads and clogged pore. You'll usually find salicylic acid in cleansers, serums and moisturizers formulated for breakout-prone skin as well as in acne spot treatments. It's a fabulous ingredient with proven results in reducing blemishes to clear the skin. Suggested products: AHA/BHA Deep Pore Cleanser and BHA Clarifying Serum
Retinol.The purest form of vitamin A, retinol is a cell-communicating ingredient and antioxidant that stimulates collagen, activates cellular metabolism to encourage faster cell turnover, fades brown spots and discoloration, and improves skin firmness. Other than sunscreen, it's one of the most tried-and-true biologically-proven topical anti-aging ingredients. Retinol can give remarkable results for resurfacing the skin's texture to give a smooth-as-glass finish, as long as it's used consistently. Simply put, it's an anti-aging powerhouse that can be tolerated by even the most sensitive skin types. It is one of the most studied and proven ingredients on the market and truly has the ability to create permanent change for the look of the skin. Suggested product: Advanced Resurfacing Serum
AHA's (Alpha Hydroxy Acids). AHAs (including glycolic, lactic, and fruit acids) are helpful in reducing wrinkles, fine lines, irregular pigmentation, age spots, and decreasing the size of enlarged pores by exfoliating away dead surface cells that age the skin. AHAs exfoliate the skin, and exfoliation triggers repair, producing newer, fresher, younger-looking skin. I have been using it on my own skin as well as recommending it to my clients since 1990, so I know for sure that it gives tried and true results. (I was even on the Dr. Oz show recently discussing the benefits of exfoliating acids.) What I love about these acids is that they address and treats so many skin issues. From fading brown spots from sun, hormones or post-breakout discoloration to smoothing the skin's texture to reducing the appearance of large pores to softening fine lines, to reducing dryness and increasing lipid production—there's simply no one that cannot get some benefit. (Of course, you should consult with an esthetician or trusted skin care professional to make sure to use the appropriate percentage and formula for your skin type). Suggested products: AHA Smoothing Serum 10% or Triple Berry Smoothing Peel
Tetrahexyldecyl Ascorbate. A stable, no-sting form of vitamin C, it helps to lighten brown sun spots, prevent blackheads, even out skin tone, lift discoloration from breakout scars and reduce the appearance of wrinkles while encouraging collagen production. It also prevents environmental damage while giving the skin a brighter and fresher look. Durham, N.C.–based Duke University Medical Center researchers determined that using a lotion or serum with both vitamins C and E under sunscreen actually provides four times the protection of sunscreen alone, so this is an added benefit. Because vitamin C has been one of the most extensively researched antioxidants in skincare, I find it to be one of the very best topical age preventers. It's found to be extremely effective in interfering with many aging free radicals found in the environment (such as sunlight, stress, and pollutants), and even the most sensitive skin types can tolerate it. In comparison to other forms of vitamin C, it stays fresher and more active longer and it isn't as acidic, so it doesn't cause stinging, redness, or irritation. Suggested product: Vitamin C&E Treatment
Zinc Oxide. It's a natural mineral which provides the safest and most effective protection against both UVA and UVB rays. Unlike chemical sunscreens, zinc forms a physical barrier on the skin, reflecting the sun's rays rather than absorbing them. Because of this, it is particularly good for heat-activated skin (like those with redness or rosacea). Zinc oxide is also nontoxic and less irritating to skin than chemical sunscreens, so if you have sensitive, easily-irritated skin, this is a beneficial ingredient for you to use. Suggested products: or Weightless Protection SPF 30
Many ingredients come and go with the trends, but these ones are tried and true and most definitely should be on your skin day in and day out. Trust me on this one!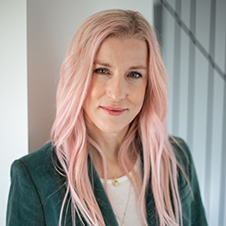 Celebrity Esthetician & Skincare Expert
As an esthetician trained in cosmetic chemistry, Renée Rouleau has spent 30 years researching skin, educating her audience, and building an award-winning line of products. Trusted by celebrities, editors, bloggers, and skincare obsessives around the globe, her vast real-world knowledge and constant research are why Marie Claire calls her "the most passionate skin practitioner we know."