Every day must-do's:
-Use products formulated exclusively for your skin type. (Choose your skin type here.) This will ensure you get the best results. (Renée Rouleau offers skin care products for nine different skin types.)
-Always wash your face both morning and night. Read: Five Reasons To Wash Your Face Before Bedtime
-Use a mild facial scrub 2-3 times a week. Read: Facial Scrubs Irritate My skin. How Can I Safely Exfoliate?
-Use a moisturizer with SPF every day on the face, neck and chest—365 days a year, rain or shine, inside or out.
-Always leave your alcohol-free toner damp before applying your moisturizer to hydrate the skin. Your skin cells are like fish. They need water to live.
-Use an acid or enzyme exfoliant at night regularly. Read why glycolic acid is the solution for so many skin concerns.
-For skin with redness, keep your products (especially alcohol-free toner) in the refrigerator. The cool temperature will lower the temperature in the skin reducing redness.
Skin Makeover Tip #1 Assess Your Skin Care Products
Skin Makeover Tip #2 Find A Reputable Skin Care Professional
Skin Makeover Tip #3 Schedule A Consultation
Skin Makeover Tip #4 Do A Patch Test With New Products
Skin Makeover Tip #5 Get Started With Caring For Your Skin
Skin Makeover Tip #7 Go Through A Series Of Light Chemical Peels
Skin Makeover Tip #8 Get Regular Professional Facials
Skin Makeover Tip #9 Eat A Healthy Diet
Skin Makeover Tip #10 Practice Self-Acceptance
Which skin care products are best for you? See our nine skin types or take the Skin Type Quiz and get products recommended.
Need expert advice from a licensed esthetician? Schedule a virtual consultation to get customized advice in person, over the phone or online via Skype or FaceTime.
For more expert advice check out the blog. Also sign up for our skin tip e-newsletter, follow Renée Rouleau on Twitter and Instagram and join the discussion on our Facebook page. You'll be your own skin care expert in no time. Get the #ReneeRouleauGlow!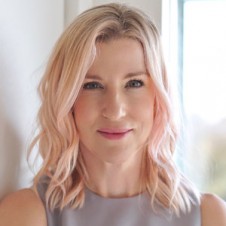 Celebrity Esthetician & Skincare Expert
As an esthetician trained in cosmetic chemistry, Renée Rouleau has spent 30 years researching skin, educating her audience, and building an award-winning line of products. Trusted by celebrities, editors, bloggers, and skincare obsessives around the globe, her vast real-world knowledge and constant research are why Marie Claire calls her "the most passionate skin practitioner we know."