SKIN FIRMING TIPS: Learn why the skin loses its elasticity and what you can do to keep your skin firm and plump.
COLLAGEN
Collagen fibers are microscopic fibers that make up 70% of the layer of the skin known as the dermis. Collagen fibers bunch together to form strong, ordered bundles that resist stretching, thus giving skin firmness. Young skin has beautifully organized bundles, giving it structure and support.
ELASTIN
Like collagen, elastin is a fibrous protein that is a main constituent of the dermis. These fibers are less ordered and highly flexible so they extend easily and give skin elasticity. Elastin provides moisture to keep the skin supple, gives skin its resiliency and smooth feel, and provides our skin its "spring and snap".
COLLAGEN AND ELASTIN BREAK DOWN
Although our skin has a remarkable ability to renew itself, it is influenced by the detrimental effects of ultraviolet light, smoking, pollutants in food, water and air and free radicals from inflammation. Genetics also certainly plays a role. As we age, collagen production slows, and collagen begins to break down. The free radicals damage collagen and elastin at a pace which exceeds our body's ability to repair itself. The structure starts to weaken, gaps form, the skin loses its elasticity, becomes less resilient, and wrinkles begin to form. As wrinkling occurs, the skin becomes unable to hold onto precious moisture.
SLOWING DOWN THE BREAKDOWN
In order to slow down aging, one strategy includes introducing products that contain free radical scavengers. Free radicals are highly reactive and unstable molecules that can cause serious cellular damage. Reducing fat, sugar and salt intake, avoiding smoking, doing regular exercise and eating foods rich in antioxidants should help reduce the damage these free radicals will cause. For those who don't eat a well balanced diet, supplements are highly recommended.
Read: How to Prevent Summer Sun Spots
To get the best results with your skin, use professional skincare products. Vitamins A, C and E are naturally occurring antioxidants (found in Renée Rouleau Hawaiian Nourishing Creamand Multi Vitamin Cream) and are valuable weapons against premature aging. Vitamins C & E (in Renée Rouleau Vitamin C & E Treatment) work beautifully together to stop hydroxyl radicals from attacking DNA and are considered essential in any anti-aging program. Our form of stabilized Vitamin C serum delivers C to the lower layers of the skin, where it needs it the most. Vitamin C is essential for the formation of hydroxyproline which protects the breakdown of collagen.
Read: How to Look 24 Percent Younger
STIMULATING COLLAGEN AND ELASTIN
Stimulating collagen production is just as important as eliminating free radicals. Aging skin shifts the balance between production and breakdown of collagen, and this leads to wrinkles. Stimulating cells to produce collagen can partly reverse this process as it improves the skin texture. Stimulating collagen synthesis can be achieved through skin abrasion. Microdermabrasion and Mini-brasion  is an effective way to stimulate collagen. The slight irritation to the skin via the crystals, is enough to trigger the skin's healing process, which ultimately creates collagen. On a daily note, home exfoliation is another way to stimulate this process through the use of gentle scrubs, AHA's and enzyme peels. (Try Renée RouleauTriple Berry Smoothing Peel or any of our three Glycolic Acid Smoothing Serums.) Remember that chronic irritation of the skin (exfoliating too much) will compromise your skin and introduce further damage, so choose your weapons carefully with the help of a licensed esthetician at Renée Rouleau. Our skin care experts will be able to assist you in choosing the right methods that will work for your unique skin type.
Another effective way to encourage the stimulation of collagen and elastin is by using products containing retinol. This can stimulate the production of dermal proteins (collagen and elastin), and thicken the dermis (the mattress under the skin that keeps the skin plump) without any harsh side effects. Renée Rouleau Advanced Resurfacing Serum will repair sun damage, lift brown spots, smooth the skin and reduce the look of lines, wrinkles and large pores over time. In addition to using this on the face, this serum also offers tremendous benefit when used on the neck and chest area.
For professional treatments, schedule an appointment for our Bio Visage Lifting Facial. This remarkable French skin rejuvenation treatment is considered a non-surgical face lift that gives almost instant, visible results to tighten, tone and firm aging skin. Low level electrical current impulses are used in conjunction with specialized products to improve muscle tone in the face and neck, tighten and lift jowls, soften wrinkles, and restore the glow of youthful skin…after just one treatment. This painless, non-invasive facial has become a popular alternative to cosmetic surgery in Europe and is now being offered exclusively at Renée Rouleau Skin Care Spas.
See a before and after photo of our Bio Visage Treatment.
Which products are right for your skin? See our nine skin types and get products recommended.
Need expert skin advice? Schedule My Skin Prescription to get personalized advice from our estheticians in person, over the phone or via Skype.
For more expert skin advice, check out Skin Source–the A-Z guide on all things skin. Also sign up for our skin tip e-newsletter, follow Renée Rouleau on Twitter and Instagram and join the discussion on our Facebook page. You'll be your own skin care expert in no time.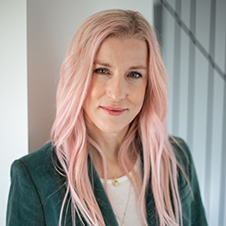 Celebrity Esthetician & Skincare Expert
As an esthetician trained in cosmetic chemistry, Renée Rouleau has spent 30 years researching skin, educating her audience, and building an award-winning line of products. Her hands-on experience as an esthetician and trusted skin care expert has created a real-world solution — products that are formulated for nine different types of skin so your face will get exactly what it needs to look and feel its best. Trusted by celebrities, editors, bloggers, and skincare obsessives around the globe, her vast real-world knowledge and constant research are why Marie Claire calls her "the most passionate skin practitioner we know."