Sensitive skin has special needs. Skin care expert, Renée Rouleau offers tips and advice for keeping delicate skin calm.
NEVER USE A BAR OF SOAP TO CLEANSE YOUR SKIN
The binders that hold a bar of soap together are in an alkaline base (high pH balance) which will strip all the water and natural oils out of the skin, causing the surface of the skin to dehydrate and create sensitivity. Your skin cells need to stay moist in order to be healthy, and without water, acne conditions, sensitive and dry skins will be aggravated. See the collection of Renée Rouleau gel cleansers and cleansing lotions.
Read: Use Low-Foaming Cleansing Gels To Wash Your Skin
KEEP YOUR SKIN CARE PRODUCTS COLD
Especially in the summer time when it's hot outdoors, the increase of blood flow can increase heat and sensitivity in the skin. Try keeping your skin care products in the refrigerator. Cleansing, toning and moisturizing with cool temperature products will constrict the capillaries to ease redness and irritation.
USE CALMING INGREDIENTS
Use skin care products with anti-inflammatory and calming ingredients such as chamomile, sea whip, azulene, and white tea to infuse a natural and beneficial comforting treatment for your skin.
Read: Does Your Skin Get Irritated Easily? It Might Be Your Products
AVOID MICRODERMABRASION
This popular treatment is beneficial for exfoliation, but for sensitive skin, it's a no-no. Sensitive skin is caused from a weakened protective barrier that lets irritants penetrate and moisture escape. And because these treatments are designed to break down the skins barrier in an aggressive way, it will only aggravate sensitive skin. Instead opt for mild chemical peels or mild facials. See the chemical peels and facials offered at Renée Rouleau Skin Care Spas.
Read: Are Laser Treatments And Chemical Peels Damaging Your Skin?
AVOID LIFESTYLE SENSITIZERS
Avoid eating spicy foods, drinking alcohol or spending time outdoors in hot weather, when you want to keep your skin looking calm. Also, when washing your face, use lukewarm/cooler water.
WHEN IN DOUBT, DO A PATCH TEST
If you have extremely sensitive and allergic skin, it's always recommended to do a patch test for compatibility prior to using any new products. How to do a patch test: The best place to patch test skin care products is the side of the neck. This area is actually more sensitive than the skin on the face but a good place to test out any new products. Apply a small amount of product to the side of the neck, gently rub in and wait 24 hours. If there isn't a negative reaction, you're all set.
Did you know the #1 cause of allergic reactions to skin care products is perfume/fragrance additives? At Renée Rouleau, we do not use artificial fragrances in any of our skin care products.
Read: How Can I Lessen The Amount of Chemicals I Use On My Sensitive Skin?
REPAIR DRY SKIN
Did you know that dry skin causes tiny, superficial cracks in your skin? Ouch! This is why skin can be more sensitive and easily-irritated during the winter months, when the skin is at its driest. These cracks (also referred to as a damaged protective barrier) can be caused from over-heated skin, rosacea, the use of harsh products, and over-using exfoliating products. If your skin is dry, you must use barrier-repairing products containing lipid-rich oils to reduce skin sensitivity and dryness. See our Phytolipid Comfort Cream.
Read: Is The Clarisonic Brush Harmful Or Helpful To The Skin?
POTENTIAL IRRITANTS IN SKIN CARE PRODUCTS TO AVOID:
Pull out your skin care products and look at the ingredient labels. If any of the below ingredients are listed, we highly suggest you don't use them.
SD Alcohol 40-the "bad" solvent alcohol commonly found in toners.  It is extremely drying and irritating to the skin. (Note: Cetyl Alcohol is completely different and is not a drying ingredient. Read why all alcohols are not harmful to the skin.)
Denatured Alcohol-similar to SD Alcohol but usually found in European skin care formulas more so than American…
Sodium Lauryl Sulfate– a harsh detergent found in cleansing gels and is extremely drying and irritating to the skin
Sodium Trideceth Sulfate– same as above
Sodium Laureth Sulfate-same as above
Ammonium Lauryl Sulfate– a harsh detergent found in cleansing gels and is extremely drying and irritating to the skin
Ammonium Laureth Sulfate-same as above
Fragrance– the #1 cause of allergic reactions to products. Avoid products containing the word "fragrance" or "parfum" on the ingredient listing
Dyes and colorants-An unnecessary chemical used to give a product its color and can be a skin irritant. Commonly listed as the very last ingredient with the words FD&C
Apricot kernels, or seed/shell powders-naturally made particles found in facials scrubs that can scratch and irritate the skin causing bacteria to spread
Alpha Lipoic Acid, L-Ascorbic Acid and Ascorbic Acid– Used in Vitamin C antioxidant formulas, the acidity may burn and irritate sensitive skin. Read why you should avoid Vitamin C products that sting when applied to the skin. (Our Vitamin C&E Treatment is a no-sting, non-irritating formula)
Read: When Is It Okay For My Skin Care Products To Tingle?
The bottom line: Sensitive skin conditions have been on the rise, but by treating your skin gently, you can significantly control signs of irritation and inflammation.
Which skin care products are best for you? See our nine skin types or take the Skin Type Quiz and get products recommended.
Need expert advice from a licensed esthetician? Schedule a virtual consultation to get customized advice in person, over the phone or online via Skype or FaceTime.
For more expert advice check out the blog. Also sign up for our skin tip e-newsletter, follow Renée Rouleau on Twitter and Instagram and join the discussion on our Facebook page. You'll be your own skin care expert in no time. Get the #ReneeRouleauGlow!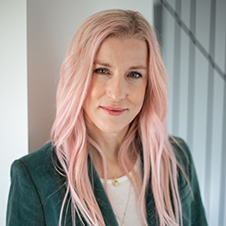 Celebrity Esthetician & Skincare Expert
As an esthetician trained in cosmetic chemistry, Renée Rouleau has spent 30 years researching skin, educating her audience, and building an award-winning line of products. Her hands-on experience as an esthetician and trusted skin care expert has created a real-world solution — products that are formulated for nine different types of skin so your face will get exactly what it needs to look and feel its best. Trusted by celebrities, editors, bloggers, and skincare obsessives around the globe, her vast real-world knowledge and constant research are why Marie Claire calls her "the most passionate skin practitioner we know."