Skin Care Update – The Basics Needed For A Good Skin Care Routine
There are so many products out there; masks, eye creams, serums, toners…. What does my skin really need? For those who like a simpler approach, Renée Rouleau sets the story straight on the "must-do's" for a good skin care routine.
Cleanser
This is the most important part of a good skin care routine. Not only is it beneficial for removing makeup, dirt and debris, but it sets your skin up for the rest of your routine. Cleansing must be performed both A.M. and P.M.
What kind?
Cleansing gels are best suited for acneic, oily to normal skins. Make sure it does not contain Sodium Laureth Sulfate or Ammonium Lauryl Sulfate, as these are drying agents that will strip and irritate the skin. Or, as a general rule, the lower the lather, the less drying, the higher the lather, the more drying it will be. A cleansing gel should always have a low lather. Try Renée Rouleau Purifying Face Wash.
Cleaning lotions are best suited for normal to dry, sensitive skins. These have a creamy consistency that melt and dissolve makeup off the skin and leave the skin feeling moist and balanced. Avoid cleansing lotions that contain Mineral Oil, as these will leave a greasy film on the skin that may clog the pores. Try Renée Rouleau Rosemary Mint Cleanser.
Toner
Toners are extremely misunderstood and therefore, often very unused as a part of a skin care regimen.
Toners offer the following benefits:
– They plump up and hydrate the skin with water. After cleansing, wipe toner (using Renée Rouleau Toning Cloths) over the skin and leave it damp on the skin, (don't let it dry) and your moisturizer will help to seal in all of they hydrating properties of the toner.
– They remove drying chlorines and minerals found in tap water. Many chemicals are put into today's tap water to destroy harmful bacteria. But they can be very drying to the skin so a toner will remove that.
– They balance the pH in the skin. If someone uses a harsh soap or harsh foaming face wash that will dry out the skin due to their low pH balance, a toner will help counteract the dryness that can occur.
– They can help enhance your skin. Depending on the ingredients used in the toner, they can help calm, control oil, stimulate blood circulation, destroy acne-causing bacteria, provide anti-oxidant benefits and so much more. (Renée Rouleau has eight different toners!)
WHAT KIND?
To benefit the skin, toners must be ALCOHOL-FREE. Why? Simply put, if they are alcohol-based they dry out the skin and create dead skin cell buildup. With all of the exfoliating treatments out on the market, a drying, alcohol-based toner will only reverse the great results that exfoliation can offer. Try Renée Rouleau Elderberry Toner.
However, the problem with toners is that since they are recommended to use both morning and evening, and they are typically used with very absorbent cotton balls that you might purchase at your drug store, the consumer goes the product so quickly. Try Renée RouleauToning Cloths. They are ultra-thin, very soft and gentle and have a low absorbency. You will actually use 50% less toner with these, so they are very economical. Shop on-line atwww.reneerouleau.com.
Daytime Sunscreen
The research shows that the #1 cause of wrinkles and skin aging is sun exposure. And 78% of sun exposure in a lifetime comes from incidental exposure-all the times that you don't think you're getting sun damage, but you are. Driving in a car, walking to the mailbox, being in your home near windows! So, wearing a sunscreen 365 days a year, rain or shine, inside and out is your best defense against aging of the skin.
WHAT KIND?
To simplify your life, look for a moisturizer with a sunscreen built right in. This prevents you from having to apply two separate products. If you have acne-prone skin, make sure it contains Micronized Zinc Oxide as it is not only very lightweight and won't clog the pores, but it also offers terrific broad spectrum sun protection. Try Renée Rouleau Daily Protection SPF 30. Drier skins can look for sunscreens containing Octinoxate, which gives the skin a moist feel. Try Renée Rouleau Age Defense Moisturizer SPF 30.
Night Cream
It's easy to get lazy about washing your makeup off at night, or skipping moisturizer thinking that you are "letting your skin breathe." To keep skin in top condition it is essential that after cleansing and toning, you follow with a non-sunscreen moisturizer for properly encouraging healing and skin repair, which occurs while you sleep.
WHAT KIND?
Oilier skins should look for something labeled "oil-free" which usually means it does not contain Mineral Oil or Petrolatum. Try Renée Rouleau Sheer Moisture. Drier skins need extra nourishment, so look for formulas labeled for dry skin. Try Renée Rouleau Hawaiian Nourishing Cream.
Facial Exfoliant
This is one extra product that can be added into your basic routine. A facial scrub, something that has tiny granules in it, can be massaged over the skin in tiny circles and it helps to remove dead, dry skin cells. Using a product like this twice a week can help untrap clogged pores to lesson break outs, fade post-breakout red marks, fade brown spots and smooth and soften dry skin. To save some time, use this product in place of your morning cleanser. It's a must for every skin condition!
What kind?
Avoid scrubs with Apricot kernels or seed/shell powders which are naturally made particles that can scratch and irritate the skin causing bacteria to spread and can cause the skin to get irritated. Look for scrubs with the ingredient "polyethelene." Try Renée Rouleau Mint Buffing Beads.
The Bottom Line
A good skin care routine doesn't need to be very complicated and take a long time to perform. Cleanser, toner and moisturizer both morning and evening will get your skin healthy and beautiful. Just make sure to do it!
Which products are right for your skin? Check out our nine skin types.
For daily skin care tips, follow Renée on Twitter and like our Facebook page.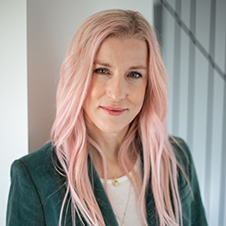 Celebrity Esthetician & Skincare Expert
As an esthetician trained in cosmetic chemistry, Renée Rouleau has spent 30 years researching skin, educating her audience, and building an award-winning line of products. Trusted by celebrities, editors, bloggers, and skincare obsessives around the globe, her vast real-world knowledge and constant research are why Marie Claire calls her "the most passionate skin practitioner we know."