There comes a time in the lives of many women when they look in the mirror, see lines and wrinkles beginning to set in with age and then ask themselves: Do I need to get Botox? Is this the best option for looking younger?
As an esthetician with 25 years of experience, I have heard this question many times and this is what I generally tell most of my clients: 
If you are considering getting BOTOX® Cosmetic, you must first decide WHY you want to get it. Is it because you have specific expression wrinkles you want to eliminate because they bother you or because you feel like you just look older and want to look younger overall?
I believe Botox can be a a good solution if you have a targeted area in mind. For example, many women dislike the wrinkles that can occur between the eyebrows (often referred to as the "elevens"). These wrinkles can give an appearance of looking angry when you're not and Botox will soften them and help the face look less harsh.
However, if your goal is to look younger overall and get more radiant-looking skin, then I think Botox may not be the only answer.
To me, looking younger is not about eliminating all lines and wrinkles. These details are what makes us look human, gives us expressions and character. I believe the best way to make the skin look younger is to improve the appearance of the skin by focusing on its overall texture. Smooth, even-toned, small-pored skin is truly what makes the skin look better and the way to achieve this is with long term use of a well-formulated product with retinol, or a prescription retinoid like Retin-A if your skin can tolerate it. *
Simply put, rough, crepey, sun damaged skin won't look any younger or better with a tight, "frozen" forehead treated with Botox. It will only look unnatural.
All in all, Botox is a quick fix and gives immediate gratification and I think when used in small amounts can be beneficial. But long-term use of a good skin routine formulated for your skin type, along with a retinol product that is scientifically proven to improve your skin's texture, is truly the secret to younger-looking skin and getting you to like what you see in the mirror. Using a retinol product is not immediate gratification like Botox is, but rather a long term investment in truly changing the texture of your skin. In time, the skin will look younger and smoother. Trust me on this one.
Note: I'm not against Botox at all, in fact, I have a little done in between my eyebrows and like the results it gives when done conservatively. I just think this is not the best fix for having younger-looking, smoother, glowing skin.
Which products are right for your skin?
 See our 
nine skin types
 and get products recommended.
Need expert skin advice? Schedule My Skin Prescription to get personalized advice from our estheticians in person, over the phone or via Skype.
We are social! Get my expert skin tips.
Also sign up for our skin tip e-newsletter. You'll be your own skin care expert in no time!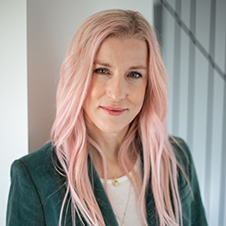 Celebrity Esthetician & Skincare Expert
As an esthetician trained in cosmetic chemistry, Renée Rouleau has spent 30 years researching skin, educating her audience, and building an award-winning line of products. Her hands-on experience as an esthetician and trusted skin care expert has created a real-world solution — products that are formulated for nine different types of skin so your face will get exactly what it needs to look and feel its best. Trusted by celebrities, editors, bloggers, and skincare obsessives around the globe, her vast real-world knowledge and constant research are why Marie Claire calls her "the most passionate skin practitioner we know."