Updated 3/25/16. When a new client comes to me, he or she is usually at their wit's end with their skin and is in need of my trusted expertise. They are usually experiencing challenges or changes with their skin, have accumulated many different products (many of which they are unsure how to use) and are just simply confused and overwhelmed with how to care for their skin. Sound familiar?
For those who have access to our skin care spas, we will encourage these new clients to bring in their array of skin care products with them during their appointment so we can analyze the products and give our expert advice on what to toss (or donate) and what is okay to continue using.
So for the readers of my popular blog, I'm sharing with you my six step process that you can use at home to assess your own skin care products. Here goes…
Step #1: The Line Up. Pull out ALL of your skin care products and set them on a table. For some, this could be over 30 products, as people tend to hold on to products for a long time, whether they are using them or not. Pull out body care products while you're at it.
Step #2: The First Cut: Dates and Labels. Toss what is old. Look at the products and think back to when you purchased them. Has it been over two years? Two years is generally how the longest that products are safe and effective to use. If you can't remember when you purchased it, chances are it's been over two years and they may no longer be effective. At the very least, look at the packaging. If the label is peeling or wearing off, that may be an indication that the product is old. Take these products and toss them. They are no longer suitable for you or anyone else. (Tip: For your next skin care product purchase, write the purchase date with a marker on the bottom of the jar or bottle so you'll always know.)
Step #3: The Second Cut: See and Sniff. With the products that are left, open each one and smell them. Does it smell okay? Even if you know or think you have purchased the product within two years, some products may not have strong preservative systems and therefore may have altered over time. If it smells strange or doesn't smell right, toss. Then look at the product. Does it look okay? If the product consistency is separating or it just doesn't look right, toss.
Step #4: The Third Cut: Compatibility Assessment. With the remainder of the products left, determine if each product is a good fit for your skin. Do you like the way it feels on your skin? Does it make your skin feel GOOD? Anything that feels irritating, leaves your skin feeling tight or dry, causes unnecessary redness, or your instincts tell you that something isn't feeling right, toss or donate. Your skin will always tell you when something is a fit – or not – if you just listen closely. And remember, feeling tight after washing does not indicate clean, it's a sign of dehydration.
Step #5: The Fourth Cut: Check Your Ingredients. Even if you determine your products are compatible with your skin, certain ingredients when used may not give your skin the best results over time. Look at the ingredient list on each product and avoid these ingredients:
· Mineral oil & petrolatum (pore-clogging and suffocating to the skin)
· SD Alcohol 40 and denatured alcohol (the "bad" alcohols commonly found in toners. They are extremely drying)
· Isopropyl myristate & isopropyl palmitate (may cause blackheads)
· Synthetic dyes (can be a skin irritant)
· Synthetic fragrances (the #1 cause of allergic reactions to products. Avoid products containing the word "fragrance" or "parfum" on the ingredient listing)
· Sodium or ammonium laureth/lauryl sulfate (extremely drying and irritating to the skin)
· Apricot kernels, or seed/shell powders (naturally made particles found in facial scrubs can scratch and irritate the skin causing bacteria to spread)
If you determine you have products that contain these ingredients, you may want to toss or donate.
Step #6: Be Realistic: What Will You Really Use? Okay, so now your collection of products should have narrowed significantly. Read over the directions for usage and then start using them. You have spent a lot of money on these products so put them to good use to get beautiful and healthy skin! And of course, if you're just ready for a fresh start, you can take my Skin Type Quiz and get the best products recommended for the unique needs of your skin.
How do you donate your products? Many domestic violence shelters gladly accept new/unused/gently used beauty products for their women who are in need. If you've recently purchased a skin care product that isn't a good fit for your skin or have a product that you're just not going to ever use, donate it. The Renée Rouleau Cosmetic Donation Program donates to The Family Place in Dallas. [NOTE: As of June 18, 2015, The Family Place in Dallas, TX no longer accepts gently used skin care, body or cosmetic products, only unused items. However, we encourage you to check with other shelters in your area to see if they will accept gently used donations.]
Read: 7 Surprising Ways You're Aging Your Skin
Read: The One Anti-Aging Product (Other Than SPF!) That You Really Need To Be Using
Read: In Your 20s? The 10 Best Ways To Prevent Wrinkles— Starting NOW
Which skin care products are best for you? See our nine skin types or take the Skin Type Quiz and get products recommended.
Need expert advice from a licensed esthetician? Schedule a virtual consultation to get customized advice in person, over the phone or online via Skype or FaceTime.For more expert advice check out the blog. Also sign up for our skin tip e-newsletter, follow Renée Rouleau on Twitter and Instagram and join the discussion on our Facebook page. You'll be your own skin care expert in no time. Get the #ReneeRouleauGlow!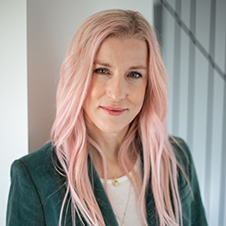 Celebrity Esthetician & Skincare Expert
As an esthetician trained in cosmetic chemistry, Renée Rouleau has spent 30 years researching skin, educating her audience, and building an award-winning line of products. Trusted by celebrities, editors, bloggers, and skincare obsessives around the globe, her vast real-world knowledge and constant research are why Marie Claire calls her "the most passionate skin practitioner we know."