Updated 12/27/14. As a young child growing up in my grandmother's beauty salon, I saw early on the powerful effect in how beauty was directly tied to how you feel. A woman would come into the salon upset with whatever was going on in her life, and my grandmother's witty humor, compassionate demeanor and caring touch would improve not only the woman's hair, but her spirit too when she walked out the door. When you look good, you feel good – it's truly that simple. This was certainly the inspiration as to why I chose to pursue a profession in beauty, but I went into esthetics (skin care) instead…
Early on in my career, my oldest sister was diagnosed with cancer and went through chemotherapy and radiation which caused her to lose her hair. The fear of not surviving combined with the side effects of the treatments had her feeling miserable. I would apply her makeup and care for her skin and I too discovered how my skills could relieve stress, boost her self-esteem and lift her spirits. My sister survived, and I continued on working with cancer patients by visiting hospitals and providing my services to them while they were cooped up in their hospital bed. The healing power of touch along with a good moisturizer, mask and lipstick can work miracles, trust me.
When I was 24 years old and living in Boston, I was personally in a relationship with someone who exhibited a controlling behavior. He became obsessive, jealous and violent and I experienced mental and verbal abuse firsthand. You hear about it happening to other women but you never think it could happen to you. I was smart, confident and owned my own business, but it just takes meeting the wrong guy to fall into this dangerous trap. Luckily, I got out of the relationship before it turned physical. As part of my own healing process, I decided to use my skills to help other women who have suffered abuse by offering my skin and spa services at the shelters and safe houses. These women showed up at the shelter with only the clothes on their back, beaten and bruised and having no self worth, and I would have a profound effect on getting these women to learn to love themselves again. I used to go very regularly and when I sold my business, moved to Dallas in 1996 and started Renée Rouleau Skin Care, connecting with another organization (The Family Place) was my top priority.
Fast forward fifteen years later, my company is very successful and because of it, my time is more limited. I have to admit that I have gotten away from my volunteer work. The demands of my company have gotten me further removed from the real reason why I personally got into this profession – to help women look better and feel better. So I decided this was the year to get back to personally helping women in need by scheduling a day at a women's shelter. So a few weeks back, four of my estheticians and I spent the morning at a shelter, and what a wonderful day was had by all.
We provided mini facials, smoothing hand treatments and head, neck and shoulder massages. For these women, learning to trust touch again was an obstacle – and that's where we provided so much value. Our hands were literally helping to heal these women, improve their skin and repair their self-esteem in the process. And did they ever feel great and their skin sure did glow!
Women's shelters around the globe are always in need and even if you can't go and volunteer your time, I highly encourage you to help in an easy way which is to donate your gently used beauty items. We all have beauty products that we're no longer using as well as those free shampoos and lotions accumulated from hotels.
Read: How To Donate Your Gently Used Beauty Products so you too can make a difference.
It's wonderful to know that you are helping to make a difference in another woman's life. Send them to The Family Place, P.O. Box 7999, Dallas, Texas, 75209.While The Family Place in Dallas, TX no longer accepts gently used skin care, body or cosmetic products, only unused items, we encourage you to check with other shelters in your area to see if they will accept gently used donations.
Read: Beauty Is Truly More Than Skin Deep
Which skin care products are best for you? See our nine skin types or take the Skin Type Quiz and get products recommended.
Need expert advice from a licensed esthetician? Schedule a virtual consultation to get customized advice in person, over the phone or online via Skype or FaceTime.
For more expert advice check out the blog. Also sign up for our skin tip e-newsletter, follow Renée Rouleau on Twitter and Instagram and join the discussion on our Facebook page. You'll be your own skin care expert in no time. Get the #ReneeRouleauGlow!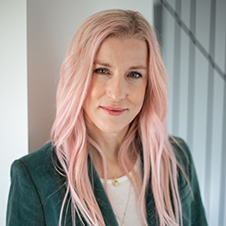 Celebrity Esthetician & Skincare Expert
As an esthetician trained in cosmetic chemistry, Renée Rouleau has spent 30 years researching skin, educating her audience, and building an award-winning line of products. Trusted by celebrities, editors, bloggers, and skincare obsessives around the globe, her vast real-world knowledge and constant research are why Marie Claire calls her "the most passionate skin practitioner we know."