The #1 reason why the skin shows signs of premature aging is due to sun/UV exposure, since the UV rays destroys collagen, create inflammation and negatively alter the DNA of your skin cells. As a skin care expert and esthetician, I am pretty fanatical about avoiding unnecessary exposure to the sun and UV light. While some of these practices may seem a little extreme to you, they are tips that I live and swear by.
Sun Protection Tip #1: Beware of daylight coming through windows.
There is a belief that the only time you get sun exposure (and therefore sun damage) is when you are outside. I'm here to say that this is just not true. UV light (that damages your skin) can penetrate windows at any daylight hour. For example, my bedroom has big windows all around it, so I always wake to sunlight (or just daylight on cloudy days) coming through. The moment I wake up, I immediately cover my face with my sheets until I'm ready to get out of bed, since I'm not wearing sunscreen. Crazy I know, but every minute counts when it comes to skin protection and as someone who is in a profession where having good skin matters, I take it very seriously. I also have shades on the window in my office to filter out daylight during my working hours…
Sun Protection Tip #2 – Apply sunscreen to the entire face, neck and chest – generously.
Did you know that an SPF 30 only protects the skin 4% more than an SPF 15? And as you go up in number, this percentage lowers. The real truth behind sun protection is not the SPF number, but how generously you apply it. Published medical studies have shown that most people apply 1/3 to 1/2 the recommended dose of sunblock. A little dab won't do ya! First thing in the morning, I apply a thick coat to the face, neck, ears, tops of hands and chest (my exposed areas of skin) for an important defense against the UV rays given off from the sun. Since the skin on my face is oily and acne-prone (I'm a skin type #2 in my nine skin types), and since sunblock should be applied generously, it is so important to find one that is formulated for your skin type and won't feel greasy or cause breakouts. I use my Daily Protection SPF 30, which gives both UVA and UVB protection and dries to a matte finish on the skin. It works amazing under my makeup since it's so light–I love it.
Sun Protection Tip #3 – Get your car windows tinted.
The side and rear car windows do not filter out any damaging UV rays, so consider tinting your car windows. I recently purchased a new car and had my car windows tinted with a special tint that is used on military planes that cuts out 95% of UV rays, yet is not very dark in color. This esthetician means business when it comes to my skin!
See this SHOCKING photo of sun damage from inside a vehicle.

Sun Protection Tip #4 – Wear sun protection clothing.
I know it may sound like I live my life in a dark cave–this is hardly the truth! I own a Harley Davidson and spend my free time out on the open road, plus I love running outside when the weather is nice. So to protect my skin from the damaging rays, I purchase special sun protective clothing (light jackets and shirts) to wear when I'm outdoors for long periods of time. Most shirts offer only 5 to 9 SPF whereas sun protective clothing can offer up to an SPF 58. Again, as someone who wants my skin to look its best–every effort to protect my skin adds up through the years. Actress, Nicole Kidman has been known to wear sun protective clothing to protect her skin from the harsh sun in Australia and to keep her freckles under control.
Sun Protection Tip #5 – Apply mineral powder throughout the day.
You've always heard how important it is to apply sunblock every 2 hours, yet if you've got full makeup on, but this may not be practical. SPF-infused mineral powders are all the rage these days, and have a natural sunblock built in them (usually a minimum SPF 20). Keep one in your handbag and dust it on your skin throughout the day since direct sunlight, as well as the oils your skin naturally produces can degrade protection. I also dust mine on the tops of my hands since my morning application of sunblock will wash off when I wash my hands. I personally use ColoreScience SPF 50 Mineral Powder available for purchase on my website here.
What about getting Vitamin D from the sun? This is certainly a hot topic and I've talked about this many times here on my blog and on Twitter.
The American Academy of Dermatology has recently updated its position statement on vitamin D based on the results of a review of the increasing body of scientific literature on this vitamin and the importance for optimal health recently conducted by the National Academy of Sciences Institute of Medicine (IOM).
The Academy continues to recommend that the public obtain vitamin D from a healthy diet that includes food naturally rich in Vitamin D, foods and beverages fortified with vitamin D, and/or dietary supplements. The Academy reaffirmed its position that vitamin D should not be obtained from the sun or indoor tanning devices, as UV radiation is a known risk factor for the development of skin cancer. The Academy encourages those with concerns about their levels of vitamin D to discuss options for obtaining sufficient dietary or supplementary sources of vitamin D with their physician.
I personally take Vitamin D supplements as well as eat a diet high in Vitamin D, but I am not always diligent about applying SPF to my legs when I run or go for a walk outside (three days a week), so there is still plenty of opportunity for the natural sun's rays to get on my skin.
Bottom line: Research shows that 78% of all sun damage is from incidental exposure (the times when you think you aren't exposed, but you are). The truth is every time daylight sees your skin (inside or out, winter or summer), you increase how rapidly your skin will age. So if you want to get really serious about lowering your risk of skin cancer and preventing premature skin aging, practice these tips. You really do have a say in the matter of how your skin will look and act when it's older, but the choice is yours.

Read: Seeing Brown Spots? You'll Be Surprised at One of the Causes
Read: Does Foundation Makeup with Sunscreen Give Enough Sun Protection?
Which products are right for your skin? See our nine skin types and get products recommended.
Need expert advice from a licensed esthetician? Schedule My Skin Prescription to get personalized advice in person, over the phone or via Skype or Facetime.
For more expert skin advice, check out Skin Source–the A-Z guide on all things skin. Also sign up for our skin tip e-newsletter, follow Renée Rouleau on Twitter and join the discussion on our Facebook page. You'll be your own skin care expert in no time!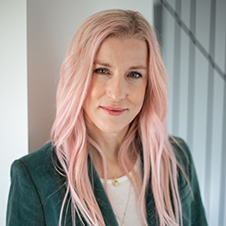 Celebrity Esthetician & Skincare Expert
As an esthetician trained in cosmetic chemistry, Renée Rouleau has spent 30 years researching skin, educating her audience, and building an award-winning line of products. Her hands-on experience as an esthetician and trusted skin care expert has created a real-world solution — products that are formulated for nine different types of skin so your face will get exactly what it needs to look and feel its best. Trusted by celebrities, editors, bloggers, and skincare obsessives around the globe, her vast real-world knowledge and constant research are why Marie Claire calls her "the most passionate skin practitioner we know."