Updated 7/17/17. It's well known that airplane cabins all have extremely low humidity, which causes extreme dehydration and dryness in the skin. The dry air will always seek moisture wherever it can get it, and that means it's going to take it directly from deep within your skin. If you have a dry skin type, your skin will become drier, but did you know that oily skin types will get even oilier during flying? When the skin has no water, it attempts to compensate for the dehydration by producing more oil—which is the last thing that oily skin needs. For dry skins that have no oil glands, the skin will be depleted of moisture. Simply put, airplanes can cause problems and wreak havoc for ALL skin types.
Here are my expert tips to follow before, during and after a flight to keep your skin healthy and balanced.
Get Your Skin Flight-Ready By Using These Three Important Products
Layer a hydrating toner and skin serum under sunscreen.
Since airplane cabins have such low humidity, you must load your skin up with as much hydration and protection as possible. One way to do this is with a layering technique of forcing a hydrating toner into the skin. After cleansing, wipe over the skin with a toner to remove impure tap water residue. Next, pour a quarter-size amount of Moisture Infusion Toner (a serum-infused toner similar to an essence formula) into the palm of one hand. With your fingertips, pat the toner all over the face and repeat two more times. This layering technique (inspired by K-beauty), allows for complete saturation of water into the skin. Next, apply a water-based skin serum that contains hyaluronic acid like found in Skin Drink Concentrate. Then apply two more layers of the toner. The idea here is the serum is carried into the skin via the toner and sealed in with two layers of toner on top. The skin is perfectly saturated with hydration to help keep it that way during the flight. Finish with a generous application of sunscreen if you're flying during daylight hours.
Be sure to wear sunscreen.
Did you know that when you are on an airplane, you're closer to the sun, so UV damage is at its greatest? Airplane windows don't filter out damaging UV rays, so even though you are not in direct sunlight, you are still exposed to harmful rays. And we all know, UV rays = skin aging and wrinkles. Wear a minimum of SPF 30 on the face, neck, and sides of the neck. Also, makeup foundation containing SPF is not enough. The sunscreen must be built into your moisturizer so it can properly coat and protect the cells. I always use Weightless Protection SPF 30.
Apply a skin oil every hour of flight to prevent moisture loss.
Hands down, applying a few drops of a well-formulated skin oil to the face every hour of flight will dramatically help skin retain moisture. Especially for long international flights, this is a serious skin savior. The idea here is that by putting on a skin oil as the last step of your routine, an oil acts as a protective barrier or shield to help the moisture from deep within the skin from evaporating through the skin's surface. I always use Pro Remedy Oil and recommend it to all my frequent flying clients. When you land, your skin will look dewy and radiant.
Going to the beach? Read My Sweat-Proof Sunscreen Layering Tricks That WON'T Clog Your Pores
Care For Your Skin While On The Plane
Choose a window seat over an aisle seat so you can control the shade.
UV light is the enemy in the quest for younger-looking skin. Research shows that 78% of premature skin aging is due to incidental exposure, which is when your skin is in daylight when you're not intentionally trying to get sun exposure. Flying on an airplane is an example of incidental exposure. When you're on an airplane, you're 30,000 feet closer to the sun. In fact, airline pilots have a higher risk of developing skin cancer since windshields on airplanes only filter out about 50% of dangerous ultraviolet (UVA) rays. It is these UVA rays that are responsible for damage to your cells' DNA, which is what leads to premature wrinkles, brown spots, and visible aging. Choose a window seat so you can close the shade and protect your skin.
Do NOT mist your skin with a hydrating spray.
For years, skin care experts have been suggesting that you mist your skin with a hydrating spray to keep it moist. This is a no-no, for sure! The worst thing you can do is spray those misters on the skin. Why? Because since the air is so dry, it looks for water wherever it can get it. Since water attracts water, when you spray the skin, it draws water from skin's deepest layers and evaporates into the dry air. The resulan t is even drier skin!
Drink plenty of water.
It's always beneficial to keep your body hydrated while flying, so drinking plenty of water is important. While it doesn't benefit the skin as much as you would think (you can read more about my thoughts here), it's still important for your body to keep internal cells hydrated.
Get up and stretch to help with blood circulation.
While this isn't a tip for your skin, it's certainly an important one for your body. High altitudes can exacerbate circulation problems, which is why it's a good idea to move around during flight. Elevate your feet when sitting, don't sit with your legs crossed, take short walks up and down the aisle, and try to do some stretching.
Care For Your Skin AFTER The Flight, Too
Use a mild facial scrub to exfoliate surface dryness.
When arriving at your destination (hotel, home or other), cleanse your skin and use a mild facial scrub to remove surface dry skin cells. Be sure to avoid facial scrubs containing natural grains such as apricot kernels, walnut husks, and almonds as the sharp edges can scratch and irritate the skin. Instead, use scrubs containing natural jojoba beads or polylactic acid beads. I recommend Mint Buffing Beads as this is also good for increasing blood circulation to brighten up tired skin.
Treat your skin to a hydrating mask post-flight to reset the face.
Once you've landed and get settled into to wherever you're staying, it's great to reset the skin by doing a little mini facial. (Or you can do this at night before you go to sleep.) On freshly washed skin, exfoliate with a gentle facial scrub like Mint Buffing Beads or an acid-peel like Triple Berry Smoothing Peel. This will remove surface dead cells so the mask used next can work its best. Rinse off your exfoliant and apply a soothing mask like Rapid Response Detox Masque as it's important to add back essential hydration and brighten the skin from post-flight dullness. I prefer gel masks because they have the highest water content. What's particularly unique about the Rapid Response Detox Masque is that in addition to providing moisture to thirsty cells, it's also very antibacterial (hello, dirty airports!) so it can help prevent any post-flight breakouts that may occur.  Bio Calm Repair Masque is also a great one for both calming and deeply hydrating. Leave a mask on for 15 minutes, rinse well and apply moisturizer.
Hang your head upside down.
The skin can look sluggish post-flight, so bring some fresh blood to the face by hanging your head upside down for three minutes. You'll go from tired to radiant immediately!
Post-flight, keep your skincare routine consistent .
A lot of people will pack random free samples they have received and will use them while they are traveling. The potential problem here is that there is already enough change going on with a new city, new climate, new foods and a different sleep schedule. The last thing you want is to be using all new products that potentially can put your skin in a total state of confusion.
Follow all of these tips to ensure your skin stays happy, healthy and hydrated—no matter where in the world you might go!
Read: More Airplane Tips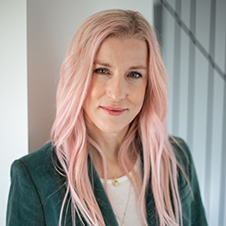 Celebrity Esthetician & Skincare Expert
As an esthetician trained in cosmetic chemistry, Renée Rouleau has spent 30 years researching skin, educating her audience, and building an award-winning line of products. Trusted by celebrities, editors, bloggers, and skincare obsessives around the globe, her vast real-world knowledge and constant research are why Marie Claire calls her "the most passionate skin practitioner we know."