Here's helpful skin care tips for those in their 30s.
What's going on: It's a time of babies, stress and hormonal swings that can wreak havoc on your skin! Growth hormones start to slow down, so the skin won't repair itself as it did in your 20's. Breakouts can often occur in the form of cystic acne, those hard, sore underground blemishes that linger for weeks. Many women will also develop "pregnancy mask" (skin discoloration known as melasma) during pregnancy so it's important to use a natural skin lightener like Vitamin C&E Treatment to minimize this condition…
Exfoliation using AHA's and enzymes also helps to jump start cell turnover and boost the metabolism of the cells keeping the skin acting young. There is strong evidence that certain vitamins (A, C, E and Zinc) applied topically to the skin can prevent the breakdown of collagen through the reduction of free radicals created by smoking, drinking, exercise, UV sunlight and pollution. Antioxidants in your skin care products and in your foods are a must for anti-aging. Read the best antioxidant foods.

What your skin needs at home:
Renée Rouleau Anti Cyst Treatment is the perfect cure for those stubborn hormonal cystic breakouts.
Renée Rouleau Vitamin C & E Treatment works both as a skin lightener (and safe to use while pregnant) to keep the skin even-toned and the blend of both stabilized Vitamin C and Vitamin E provide powerful antioxidant protection.
Renée Rouleau AHA Smoothing Serum 17% is a must in the 30's to dissolve pigmented cells, refine large pores and keep the skin looking smooth.

Professional treatments: Our Cranberry Brasion Facial is the perfect facial for skin in their 30's because of the exfoliation and hydration this facial offers. The exfoliation helps to break up pigmented cells, smooth the skin while stimulating cellular turnover and Hyaluronic Acid is used to deeply hydrate the skin. Don't have time for regular professional facials? Here's how to give your skin a facial at home. Also getting a chemical peel every few months is good for keeping the skin smooth and breakouts at bay.

Skin Tips for the 30's:
– Get 7-8 hours of sleep every night. Sleep reduces stress, one of the big aggravators of acne. Read why getting your beauty sleep will help your skin.
-Too tired to wash your skin before you go to bed? Perform your nighttime skin routine at 6:00 or 7:00. Earlier is better than never. Getting off makeup, dirt and bacteria at night is a must. Read five reasons why you must wash your face every night.
-Stress can cause the skin to produce more oil and breakouts. Read these skin tips.
-Age 30 is when the skin starts to show the signs of aging. It's time to take your skin care seriously. Daily sun protection is a must! You'll love our lightweight Daily Protection SPF 30 with 7% Zinc Oxide.
-If you want to look young, avoid the sun. A little sun means a little damage, a lot of sun means a lot of damage. The choice is yours. Did you know that 78% of the sun damage that occurs in a lifetime is from driving in your car, sitting in your office near windows and walking to the mailbox?
-Are you a side sleeper? Side sleeping causes deep vertical creases on the chest since the skin folds in that position. Try to sleep on your back.
-Short on sleep? Read skin tips to reduce dark circles and puffiness.
-If you're pregnant, read which skin care ingredients you'll want to avoid.
-In your 30's is a great time to start using an eye cream. Our Vitamin C Eye Serum is a must! Read the best way to apply eye cream.

Read skin tips for those in their 20's, 40's, 50's and 60's.
Read: Five Reasons to Use Alcohol-Free Toner
Read: How Do Hormones Affect The Skin in Your 30s?
Read: What's the Best Spot Treatment for Blemishes?
Which products are right for your skin? See our nine skin types and get products recommended.
Need expert advice from a licensed esthetician? Schedule My Skin Prescription to get personalized advice in person, over the phone or via Skype or Facetime.
For more expert skin advice, check out Skin Source–the A-Z guide on all things skin. Also sign up for our skin tip e-newsletter, follow Renée Rouleau on Twitter and join the discussion on our Facebook page. You'll be your own skin care expert in no time.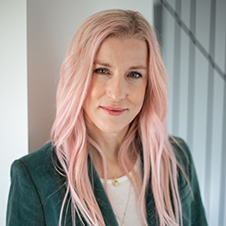 Celebrity Esthetician & Skincare Expert
As an esthetician trained in cosmetic chemistry, Renée Rouleau has spent 30 years researching skin, educating her audience, and building an award-winning line of products. Her hands-on experience as an esthetician and trusted skin care expert has created a real-world solution — products that are formulated for nine different types of skin so your face will get exactly what it needs to look and feel its best. Trusted by celebrities, editors, bloggers, and skincare obsessives around the globe, her vast real-world knowledge and constant research are why Marie Claire calls her "the most passionate skin practitioner we know."