What's going on: Skin cells are regenerating fast, giving your skin a flawless, radiant look. The collagen and elastin fibers in the skin give a plumped-up look. Your skin may still suffer from occasional acne breakouts, oiliness and clogged pores which are carried over from hormone fluctuation in the adolescent years. Read about the different types of blemishes and how to best treat them. But the acne years are mostly over, so you must discontinue the use of harsh, drying products. It's time to get serious about your skin and develop a good, basic skin care routine to be used morning and night. How will your skin age? It's based on your ethnicity.
What your skin needs at home: …

Use Renée Rouleau Daily Protection SPF 30 every day, 365 days a year, rain or shine. It dries to a matte finish on the skin and won't clog the pores or cause breakouts.
Use Renée Rouleau AHA/BHA Cleansing Gel to wash the skin. It's sulfate-free so it won't over dry the skin, yet is formulated with Jojoba beads, Salicylic and Glycolic Acids to exfoliate and destroy acne-causing bacteria from the skin. Perfect for those in their 20's since you still can get break outs, but don't need to be using harsh acne products.
Zap those occasional blemishes that can still come up with Renée Rouleau Night Time Spot Lotion, Anti-Cyst Treatment or Daytime Blemish Gel.
What your skin needs in the spa: Monthly deep pore cleansing facials are a must. Our Oxygen/Vitamin Infusion Facial is ideal for those in the 20's because not only does it deliver excellent anti-oxidants needed to prevent aging, but the oxygen destroys bacteria to prevent acne blemishes.
Also, corrective skin peels, like Renée Rouleau Ultrasonic Peel or Cranberry Enzyme Peel are a great treatment added on to any facial to combat occasional break outs while keeping the skin smooth and the pores clear.
Skin Tips for the 20's:
-Avoid dairy if you are prone to breakouts in your chin and jaw line area and limit your intake of orange juice if your breakouts occur in the cheek area. Read why dairy can cause cystic acne.
-When out by the pool or lake (a popular activity for those in their 20's), make sure to reapply sunscreen every two hours. People often focus on the SPF number, but it's really about applying sunscreen generously and reapplying often.
-To reduce breakouts, drink hot lemon water first thing in the morning. This helps to reduce bacteria internally lessening break out activity.
-Avoid harsh acne products since over-drying the skin can cause dead skin cell buildup which will keep oil trapped and clogged under the skin, resulting in further clogged pores and break outs. Be sure your gel cleansers are sulfate-free.
-Be sure to use moisturizer at night—even if you have oily skin. When your skin doesn't have the proper water levels, the dehydration causes the skin to produce more oil—the last thing those with oily skin want! You'll love our Matte Moisture.
-Avoiding the sun and sun tanning booths now, in addition to usage of a daily sunscreen will really pay off for years to come. Breakouts come and go, but sun damage will last forever.
-Getting off makeup, dirt and bacteria at night is a must. Read five reasons to wash your face.
-Did you know that fall is the most common time of year for break outs due to the temperature changes? Increase your exfoliation and don't use harsh, drying products. Read more skin tips.
-If you're a user of the Clarisonic brush, go easy. Read our Clarisonic review and why it may be harming your skin.
Which skin care products are right for you? See our nine skin types and get products recommended.
For expert skin advice, check out Skin Source–the A-Z guide on all things skin. Also sign up here for our skin tip e-newsletter, follow Renée Rouleau on Twitter and like our Facebook page. You'll be your own skin care expert in no time!
Read skin tips for those in their 30's, 40's 50's and 60's.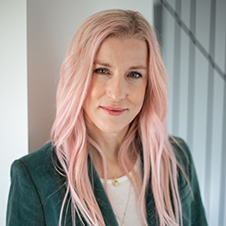 Celebrity Esthetician & Skincare Expert
As an esthetician trained in cosmetic chemistry, Renée Rouleau has spent 30 years researching skin, educating her audience, and building an award-winning line of products. Her hands-on experience as an esthetician and trusted skin care expert has created a real-world solution — products that are formulated for nine different types of skin so your face will get exactly what it needs to look and feel its best. Trusted by celebrities, editors, bloggers, and skincare obsessives around the globe, her vast real-world knowledge and constant research are why Marie Claire calls her "the most passionate skin practitioner we know."