Updated 8/21/16. As we age, everything tends to slow down in the body, including blood circulation and the natural exfoliating process of the skin. The result? Skin that feels and looks sluggish, lifeless, dull, and just plain "blah." Also, since the amount of oil your skin produces will lessen with age, the skin doesn't look as smooth as it once did. Here are my expert tips to get your skin looking fresh and glow-y in no time.
Start using products containing vasodilators. Since circulation can get sluggish with age, ingredients such as peppermint and ginseng work to give the skin a pick-me-up. When applied topically, they may dilate the blood vessels, allowing the skin to accommodate more nutrient-rich blood. With continued use, you should notice the skin looking brighter. Recommended products: Luxe Mint Cleansing Gel (discontinued), Mint Buffing Beads, Revitalizing Ginseng Toner and Rosemary Mint Cleanser (discontinued).
Only use low-foaming, sulfate-free cleansers to wash your face. Cleansing your skin in the morning and at night is essential for optimal skin health but you need to pay attention to the type of cleanser you use. Many foaming and gel-based cleansers are formulated with ingredients like sodium lauryl sulfate, sodium laureth sulfate or ammonium laureth sulfate which are surfactants; cleansing agents that cut oil from the skin. These ingredients are simply too harsh and will strip the water out of the skin after every washing, leaving the skin feeling tight and creating irritation. The rule is – more lather, more drying and less lather, less drying. Be sure to look for cleansers labeled as 'sulfate-free' as these will be much gentler to the skin to avoid moisture loss. And bar soaps are a no-no. Read why here. Recommended cleanser: Moisture Protecting Cleanser but all our cleansers are sulfate-free so be sure to take this Skin Type Quiz to see which one is best for you.
Repair your moisture barrier so the skin will appear light reflective. As any makeup artist knows, when you want the skin to have the look of a radiant glow (think the J-Lo glow), you want to make light bounce off of the skin. This is known as 'light reflection.' If your skin is dry it means you have a damaged moisture barrier which means you have these tiny, invisible cracks in the skin that allow not only moisture to escape but also allow light to penetrate through these pathways. This prevents light from bouncing off the skin's surface so the skin will not have that 'lit from within' look. Aside from using only gentle cleansers, you can repair your skin's dryness and close up these cracks by using the RIGHT type of moisturizer. Not all moisturizers are equal so you need to use one with these ingredients to ensure your skin stays repaired and can reflect light well. Recommended moisturizer: Glow Enhancing Cream.
Hang your head upside down for three minutes a day. Give your skin a boost of a glow with my favorite trick.

Practice deep breathing. Not only does it help to lower blood pressure and decrease stress, practicing deep breathing will allow oxygenated blood to flood your system to get your skin to glow.
How to breathe deeply:
1. Breathe in slowly until your lungs fill up completely
2. Hold your breath for 10-15 seconds
3. Let ALL of the air out slowly, as this removes carbon dioxide and cellular wastes from the body
4. Practice this as often as you can during the day
Note: It's always best to be outside or in a clean environment when doing this technique.
Test your skin's circulation with the pinch test here.
Be sure to exfoliate regularly. The quickest, easiest way to instantly brighten the skin is to use an exfoliating product. When I was on the Dr. Oz show, I shared my favorite exfoliating ingredients that will ensure the skin looks its best. By dissolving and removing dry surface cells, you instantly reveal fresher, brighter, plumper cells that reflect light and give the skin a smoother look. Recommend exfoliant: Triple Berry Smoothing Peel. My celebrity clients like Demi Lovato and Gracey Gealey love using it and here's a picture of Sofia Vergara with it.
With a little extra effort, you can certainly brighten up the look of your skin. Here's more of my skin-glowing tips.
Read: Five Skin Care Mistakes Almost EVERYONE Makes
Read: 10 Easy Tips That Guarantee Glowing Skin
Read: My Makeup-Free Skin
Which skin care products are best for you? See our nine skin types or take the Skin Type Quiz and get products recommended.
Need expert advice from a licensed esthetician? Schedule a virtual consultation to get customized advice in person, over the phone or online via Skype or FaceTime.For more expert advice check out the blog. Also sign up for our skin tip e-newsletter, follow Renée Rouleau on Twitter and Instagram and join the discussion on our Facebook page. You'll be your own skin care expert in no time. Get the #ReneeRouleauGlow!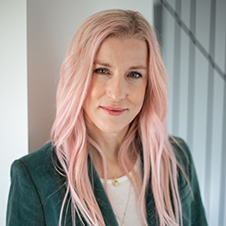 Celebrity Esthetician & Skincare Expert
As an esthetician trained in cosmetic chemistry, Renée Rouleau has spent 30 years researching skin, educating her audience, and building an award-winning line of products. Her hands-on experience as an esthetician and trusted skin care expert has created a real-world solution — products that are formulated for nine different types of skin so your face will get exactly what it needs to look and feel its best. Trusted by celebrities, editors, bloggers, and skincare obsessives around the globe, her vast real-world knowledge and constant research are why Marie Claire calls her "the most passionate skin practitioner we know."