As someone with fair skin, I experienced freckles (mostly in my childhood) due to spending a lot of time outdoors with limited use of sunscreen. Freckles are most common in people with fair skin, blue eyes, blond or red hair, such as those of Irish decent. If you have freckles, you weren't born with them, but they appear as early as two years old and increase over the years due to sun exposure.
The cause of freckles is cells in the skin that produce a pigment called melanin. Melanin is what gives skin its color. Sunlight hitting the skin causes the production of more melanin in order to protect the skin layers underneath. If you have melanin that builds up in one place, it will result in freckles.
For those who do not like their freckles or find them getting annoyingly darker as you age, here are some helpful tips to lessen their appearance:
– Avoid the sun. As much as possible, you want to avoid spending time in direct sunlight. Sunlight increases melanin activity, which only exacerbates freckles.
– Wear sunscreen 365 days a year, rain or shine, inside or out. Studies indicate that 78% of the sun exposure you get in a lifetime is incidental exposure. You may say, "I'm not out at all during the day." Just walking to your car, driving in your car, and sitting in your house next to windows will give you unnecessary sun damage leading to increased freckling. A minimum of SPF# 15 should be used every day, winter and summer. Try Renée Rouleau Daily Protection SPF 30…
– Wear a hat and sunglasses whenever outdoors. The sun is the enemy for freckles so keeping the skin covered will help. Get a broad-brimmed hat without mesh or weave that could let light through. A hat is a great way to take shade with you everywhere, and it will keep the sun from directly hitting your face. Large framed sunglasses also help to provide necessary shading.
– Be sure to exfoliate regularly. Regular use of exfoliating products help to break down and remove pigmented cells to lessen the appearance of freckles. Chemical exfoliants like Renée Rouleau Glycolic Serums, Triple Berry Smoothing Peel and physical exfoliants like Mint Buffing Beads and Micro Crystal Cream are all excellent to use for fading freckles. Important: Using exfoliants regularly have been shown to increase sun sensitivity by 45 percent. So if you know you'll be spending a lot of time outdoors, discontinue use a few days prior.
-Keep the skin cool. Not only does the sun stimulate more melanin production, but heat does as well. So even if you're diligent about wearing sunscreen and keeping your skin away from direct sunlight, your freckles can still get darker. If your skin is over-heated from being outdoors or from exercise, it's important to lower the temperature in the skin as soon as possible. Keep a gel-based mask like our Azulene Gel Mask in the refrigerator and apply to clean skin. Leave on 15 minutes, rinse well and follow with a calming, anti-inflammatory moisturizer. Together, these decrease heat-induced redness.
– Get a professional chemical peel. To enhance the lightening results of home care exfoliating products, professional chemical peels can really offer an added boost. Renée Rouleau Skin Repair Program and Triple Peel are both beneficial treatments for fading stubborn freckles. Read about our Skin Repair Program.
–  Use a skin lightener. There are many out on the market, some over-the-counter and some available by prescription. I love our Vitamin C&E Complex because the action ingredient, Magnesium Ascorbyl Phosphate works to suppress melanin activity to fade and lighten the appearance of freckles. It's especially important to use a skin lightener during the summer. Also, our Lemon Bioflavonoid Toner has natural skin-lightening properties so this is beneficial if you're a skin type #4.
– Use mineral makeup. Mineral makeup was introduced several years back and is excellent for reflecting light off of freckles to give a more even-toned, luminescent glow to the skin.  Mineral makeup (we love the ColoreScience line) also contains sunscreen to protect the skin from sun damage, and because it's free of fragrances, dyes and preservatives it's ideal for sensitive skins, which those with freckles usually have.
 -Don't forget to protect your lips. Freckles can certainly appear on the lips so using a good lip balm containing SPF is important.
– Practice patience. Freckles will not fade or disappear overnight, but following these expert skin care tips should offer improvement.
Read: Five reasons to wash your face before bedtime.
Which products are right for you? See our nine skin types and get products recommended.
For expert skin advice, check out Skin Source–the A-Z guide on all things skin. Also sign up here for our skin tip e-newsletter, follow Renée Rouleau on Twitter and like our Facebook page. You'll be your own skin care expert in no time!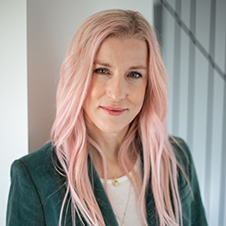 Celebrity Esthetician & Skincare Expert
As an esthetician trained in cosmetic chemistry, Renée Rouleau has spent 30 years researching skin, educating her audience, and building an award-winning line of products. Her hands-on experience as an esthetician and trusted skin care expert has created a real-world solution — products that are formulated for nine different types of skin so your face will get exactly what it needs to look and feel its best. Trusted by celebrities, editors, bloggers, and skincare obsessives around the globe, her vast real-world knowledge and constant research are why Marie Claire calls her "the most passionate skin practitioner we know."