Did you know that you can get a 50 percent decrease in the risk of melanoma, the deadliest form of skin cancer, when sunscreen is applied daily? (Source: Journal of Clinical Oncology) Since May is National is National Melanoma Month, this is great information you need to know. We all know how important it is in preventing premature wrinkles but for the sake of your health, wearing sunscreen is a must.
Here's five things you need to know about sunscreen to ensure you're getting the best protection for your skin.
1. Sunscreen must be applied generously. In order for SPF to truly protect the skin and prevent the harmful UV rays from damaging the skin, the formula has to be applied generously or it will not provide adequate protection. If you have a sunscreen that feels too heavy on your skin (which so many can), you'll probably only apply a small amount and you're not doing your skin any good. The goal is to find a sunscreen that doesn't use heavy emollients so as not to leave a greasy residue. That way, you can be heavy-handed when using it (as you should be) but you're not left feeling oily. This is why our broad-spectrum Daily Protection SPF 30 is one of our best-selling products. It actually dries to a matte finish and never, ever leaves residue. If you have oily, acne-prone skin, this one is for you. If you have normal to dry skin, then you'll love our Age Defense Moisturizer SPF 30.
Read: How to Apply Sunscreen to the Face and Neck 

2. Don't get overly confident with a high SPF number. With so many companies launching high SPF number sunscreens, it creates a lot of confusion as to which number is the best in protecting the skin. Did you know that an SPF 30 offers only 4% more protection than an SPF 15 and an SPF 45 offers just 2% more? High SPF number sunscreens like an SPF 50 or 100 can give people a false sense of protection and therefore may not be applied generously enough to do its job. While I do suggest using a minimum of SPF 30, it has far more to do with how generously you apply it than the number. (By the way, the FDA is proposing to limit the maximum SPF on labels to 50.)
Read: Make Sure to Wear Sunscreen in an Airplane
3. Sunscreen built into your foundation makeup is not enough. If you apply a regular non-SPF moisturizer to the face and then apply a foundation with an SPF over it, the sunscreen in the makeup has a difficult time penetrating through the moisturizer to effectively coat and protect the skin cells. I highly suggest using a sunscreen moisturizer directly on the skin first to adequately deliver the specified SPF (as long as you apply it generously) and then apply foundation makeup with sunscreen, then finished off with SPF-infused mineral powder. I love the ColoreScience line here.
Read: Slathering on Sunscreen but Still Seeing Brown Spots?
4. Sunscreens degrade from sunlight and your skin's natural oil. Many sunscreen formulas degrade with exposure to UV light. The daily oil produced on the skin (especially on the nose which is the oiliest area of the face) can also cause sunscreen to breakdown. This is why reapplying sunscreen every few hours is so necessary. However, reapplying often is not always practical. Are you supposed to wash your face, reapply sunscreen, reapply makeup and repeat this every two hours during the day? Not so easy. The fastest, easiest, and most effective way to ensure that your skin is protected all day is to dust the skin every few hours with a good mineral powder formulated with sunscreen. They are considered "dry" sunscreens and make reapplying very simple. My personal favorite (and the one I use faithfully) is ColoreScience, because it's endorsed by The Skin Cancer Foundation and contains SPF 50. I don't use it as my makeup, even though it has a light tint, but rather as a light powder over my regular makeup to give a good physical block of protection to my skin.
Read: The Best Sunscreen Mineral Powder to Prevent Wrinkles and Sun Damage
5. If you're prone to sensitivity or breakouts, choose a sunscreen formula with Zinc Oxide. Of all the categories of skin care products, sunscreens are the most likely to cause negative skin reactions on the skin. And mostly, it's rashes or acne breakouts from the use of sunscreen. The good news is there have been a lot of advancements in sun protecting ingredients, so if you still shy away from sunscreens because of past bad experiences, you just haven't found the right one yet—but they are out there. My skin is oily in the t-zone, and even at 42, my oil production hasn't slowed down too much yet. I have my own built-in moisturizer (the oil) which is considered to be a good thing, but I also have to be very careful because I'm definitely very sensitive, prone to acne breakouts and clogged pores. So using a lightweight, gentle sunscreen is an absolute must for me and the best ingredient to offer that is Zinc Oxide. It's chemical-free, won't clog the pores, offers excellent UV protection and never leaves the skin feeling greasy. So if you're like me and have to be very careful about what you put on your skin, look for formulas with at least 5% Zinc Oxide as they won't clog the pores, feel heavy on the skin or cause irritation or rashes. Try my very, very favorite sunscreen in the world—Daily Protection SPF 30 with 7% Zinc Oxide. Trust me, your skin will love it. If you have normal to dry skin, then you'll love our Age Defense Moisturizer SPF 30.
Here's what top beauty editors are saying about our best-selling Daily Protection SPF 30:
"Renée Rouleau Daily Protection SPF 30 is a sunscreen that WON'T cause acne" – Cosmopolitan Magazine
"Renée Rouleau Daily Protection SPF 30: The Best SPF Product" – Elle Magazine
Read: My Five Favorite Tips for Protecting Your Skin from the Sun
Read: Five Essentials to Stay Tan-Free at the Beach
Read: How Do Renée Rouleau Products Compare to Other Skin Care Lines?
Which products are right for your skin? See our nine skin types and get products recommended.
Need expert skin advice? Schedule My Skin Prescription to get personalized advice from our estheticians in person, over the phone or via Skype.
For more expert skin advice, check out Skin Source–the A-Z guide on all things skin. Also sign up for our skin tip e-newsletter, follow Renée Rouleau on Twitter and join the discussion on our Facebook page. You'll be your own skin care expert in no time!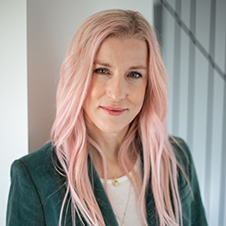 Celebrity Esthetician & Skincare Expert
As an esthetician trained in cosmetic chemistry, Renée Rouleau has spent 30 years researching skin, educating her audience, and building an award-winning line of products. Trusted by celebrities, editors, bloggers, and skincare obsessives around the globe, her vast real-world knowledge and constant research are why Marie Claire calls her "the most passionate skin practitioner we know."