Many facial scrubs CAN be irritating, so be sure to follow the below tips.
-Avoid using facial scrubs containing apricot kernels, walnut husks or other natural grains. They have sharp edges and can scratch and lacerate the skin causing skin irritation. Instead, look for facial scrubs using polyethylene or micro beadlets that will gently roll across the skin.
-When massaging a facial scrub across the face, use LIGHT pressure in circular motions. Using heavy pressure can be too aggressive and cause irritation…
-Particularly for sensitive skin, make sure to apply facial scrub to damp skin. Using on damp skin will dilute the facial scrub a bit making it less aggressive.
-For most skin types, a facial scrub should be used no more than 3-4 times a week. Your skin needs a certain amount of protection to retain moisture levels and to prevent over-exfoliation.
-Particularly with facial scrubs, it's best to avoid a synthetic fragrance or perfume. The addition of fragrance in a facial scrub can irritate the fresh, new skin cells revealed through the exfoliation process. All of the Renée Rouleau products do not use artificial perfumes. See our two facial scrubs—Mint Buffing Beads and Micro Crystal Cream.
What if you are doing all of the above correctly and your skin still gets irritated?
It's best to avoid facial scrubs and instead, use chemical exfoliants. You apply it, leave it on the skin, and it works to dissolve the dry skin cells, instead of the physical manipulation needed with facial scrubs. These exfoliants include ingredients such as Glycolic Acid, AHA's and BHA's, and enzymes such as Pumpkin, Papaya, and Pineapple and generally will avoid causing skin irritation. Try Renée Rouleau Glycolic Serum 10%, 17%, or 20%, or Triple Berry Smoothing Peel.
Which products are right for you? See our nine skin types and get products recommended.
For expert skin advice, check out Skin Source–the A-Z guide on all things skin. Also sign up here for our skin tip e-newsletter, follow Renée Rouleau on Twitter and like our Facebook page. You'll be your own skin care expert in no time!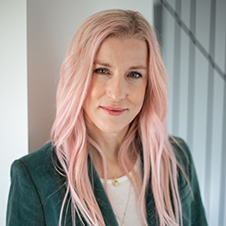 Celebrity Esthetician & Skincare Expert
As an esthetician trained in cosmetic chemistry, Renée Rouleau has spent 30 years researching skin, educating her audience, and building an award-winning line of products. Trusted by celebrities, editors, bloggers, and skincare obsessives around the globe, her vast real-world knowledge and constant research are why Marie Claire calls her "the most passionate skin practitioner we know."