Updated 1/3/18. Meet Shelby, a Renée Rouleau esthetician, who works in our Plano, Texas skincare spa.
Name: Shelby
Hometown: Bellefontaine, OH
Renée Rouleau esthetician since July 2015
Skin Type #: 4 (Find your skin type here.)
What are YOUR top 3 skin concerns: Clogged pores, sensitivity, aging. I have both oily and sensitive skin so I am always concerned with keeping my pores as clean as possible without causing irritation. I am also in my early 30's now so incorporating anti-aging ingredients into my regimen is key even though I still have to deal with the occasional blemish.
What is your favorite Renée Rouleau blog post? I love this post because it really lays out all the facts. There are so many different reasons people start getting acne. In this post, Renée gives some great tips on how to manage breakouts as well as helping you figure out what might be causing yours. It can be a game of detective sometimes. Plus, Amanda Crew from the TV show Silicon Valley is amazing!
What are your favorite Renée Rouleau products? Rapid Response Detox Masque, Balancing Skin Tonic, Firm + Repair Overnight Serum.  I've been in love with the Rapid Response Detox Masque ever since it first came out. The fact that it is a hydrating, soothing AND clearing mask is incredible. It actually works quickly—just like it says! I use this mask 3-4 times a week when I'm getting a bad break out and once a week as maintenance. Also, the Balancing Skin Tonic truly helps balance my oil production as well as my hydration levels. My skin feels so clean and prepped after applied. Plus, I know if I'm breaking out it has a gentle sanitizing effect. Lastly, I love knowing I have Firm and Repair Overnight Serum in my corner. I"m getting my peptides and antioxidants in this anti-aging serum. Just after 2 weeks, my skin tone improved significantly. Seeing my skin start to glow was incredible!
What is a memorable success story that you have had with a client's skin? I get a lot of clients with sensitive skin who basically have given up and stopped using products because everything has irritated them. The sad reality is that even if you aren't sensitive there are also just a lot of poorly formulated products out there and unnecessarily so. It can be expensive to do the trial and error so I understand why people throw in the towel. This was one of my clients who first came to the spa frustrated because they were getting married and needed to calm their skin. We started with just facials and overtime slowly started to incorporate Renée Rouleau products into their routine. It was incredible to see how much her skin improved with each appointment. She had less irritation and redness, cleaner pores and less tightness.  It was amazing to see how great her skin was responding and by the time her wedding rolled around her skin was glowing! It was so fulfilling to see her happy and confident the week of her wedding, and I'm glad I was there along the way to witness the transformation.

How is Renée Rouleau different?  Renée Rouleau maintains a high level of quality ingredients within her product line and services that a lot of companies can lose once their business expands. We are still a small privately owned company so are able to make the best decisions for our customers and keep prices reasonable.

Why did you decide to become an esthetician and what is your favorite part of the job?I am a self-proclaimed skincare junkie and always will be. Even when I was little I always wanted to use my mom's products and read the back of labels. Besides the products, I love working with people. It's such a fun challenge to be able to work with someone to achieve their skin care goals. You have to take into account their lifestyle, habits, time of year, skin type etc. It's like putting together a puzzle!
What is something outside of work I enjoy: Being a Seattle transplant, I am always on the lookout for that next good cup of coffee.
Biggest mistake people make with their skin: Not using a toner. I love toner and consider it to be an essential part of your routine. It finishes the cleansing process and truly gives you a clean slate while beginning the hydrating process. You can't beat that! It makes your serums and moisturizers soak in more effectively and removes any soap residue potentially left over. A properly formulated toner appropriate for your skin type can be life-changing. I've had so many clients start using one after years of going without, and they see results immediately.
Fun fact: I wanted to write romantic fiction when I was younger and even majored in Creative Writing. I still pick up a book from the romance genre from time to time.
What would I be an expert in if it wasn't for skincare? Psychology! This was my main focus in undergrad as I love hearing people's stories. I enjoy understanding why people do what they do and seeing what makes them tick. Each person has their own universe going on, and I am happy to be a part of it—even if only a short time. Fortunately for me, I still get to have aspects of this is my career as an esthetician.

Do you have any advice for aspiring estheticians? Stay open-minded. There's always room to update a technique or use a new modality. Learn from blogs, conventions, and your coworkers!

What is your favorite skin care tip to share with clients?Hands down! As in, no touching the face throughout the day. I tell my clients, especially teens, to pretend your hands are strapped to your sides. I know this might seem excessive, but hands can be very dirty. Just think about everything they come into contact throughout the day! I always say you shouldn't be touching your face unless you are cleansing, toning moisturizing etc. This is one of the best ways to prevent breakouts and clogged pores so be mindful of how much you're touching your face throughout the day.
Favorite Movie: "O' Brother, Where Art Thou?"
Favorite TV show: Girlfriends' Guide to Divorce
Celebrity Crush: Drake
Best advice I've ever been given: Sleep on it. If I ever have to make a big decision I try not to be impulsive. It's amazing what can happen once the mind has had a chance to process and you're not making a totally emotional decision.
Best Vacation: Surfing and Yoga Camp, Costa Rica. Aaaamazing!!!
If you were to create a slogan for your life what would the slogan be? Follow your heart, but take your brain with you!
Schedule online now for an appointment at our Plano, Texas skin care spa with Shelby.
For a complete list of services offered, you can view them here.
Which skin care products are best for you? See our nine skin types or take the Skin Type Quiz and get products recommended.
Need expert advice from a licensed esthetician? Schedule a virtual consultation to get customized advice in person, over the phone or online via Skype or FaceTime.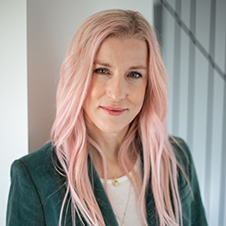 Celebrity Esthetician & Skincare Expert
As an esthetician trained in cosmetic chemistry, Renée Rouleau has spent 30 years researching skin, educating her audience, and building an award-winning line of products. Trusted by celebrities, editors, bloggers, and skincare obsessives around the globe, her vast real-world knowledge and constant research are why Marie Claire calls her "the most passionate skin practitioner we know."