Polina Lavrenova joined Renée Rouleau in our Austin office as both an esthetician, Certified Acne Specialist, and Customer Care Representative. She is very knowledgeable about the Renée Rouleau philosophy and provides excellent care to our customers and clients.
Name: Polina Lavrenova
Hometown: Saint Petersburg, Russia
Renée Rouleau esthetician since: July 30, 2018
Skin Type: #4 which is classified as oily/combination/sensitive/occasional breakouts. Want to know your skin type?  Take the Skin Type Quiz.
What are YOUR top skin concerns? Sensitivity, post-inflammatory hyperpigmentation, and clogged pores.
What are your favorite Renée Rouleau Skin Care products and why? This is a hard question since there are so many amazing products!
Pore + Wrinkle Perfecting Serum. Before using Renée's products I tried so many different exfoliating peels, serums, and enzymes. Nothing seemed to help with the deeply clogged pores on my jawline. I used the Pore+Wrinkle Perfecting Serum for 3 days and said goodbye to the congestion once and for all! I couldn't believe it.
Vitamin C&E Treatment. This is the first vitamin C serum that my skin has been able to tolerate. I'm so glad that Renée decided to use THD, which is a very stable lipid-soluble form of vitamin C. As an ex-picker, I needed a little help in the acne scar fading department, and this has helped tremendously. Combined with regular use of the Pore + Wrinkle Perfecting Serum and Triple Berry Smoothing Peel, my skin tone has never looked more even! Those pesky scars are now a thing of the past. (Yay!)
Triple Berry Smoothing Peel. I love having such an effective, yet gentle at home peel to use during my weekly facial! It keeps my skin so smooth and glowy.
How is Renée Rouleau Skin Care different from other skin care spas and lines that you have had experience with? I love that Renée's products are a blend of nature and science. She has a huge range of products that cover 9 different skin types. The variety and attention to the spectrum of skin types provide the most versatile benefits that I've ever seen in a skincare line!
Why did you decide to become an esthetician and what is your favorite part of the job? When reevaluating what I wanted to do with my life, I knew that I wanted three things: 1) I wanted to love and enjoy my lifelong career, 2) I wanted to apply my love of skin care and skin health to that career, and 3) I wanted to help others feel good about the skin they live in! My favorite part of the job has to be all of our success stories. I'm so grateful to have the opportunity to help people all over the world on a daily basis.
What is a memorable success story of a time when you really made a huge difference in someone's life? One of my clients was very emotional during our virtual consultation while explaining her battle with adult acne. After the first check in post-consultation, she was happy to let me know that she hadn't experienced a break-out since! It was so refreshing to hear that she finally felt comfortable in her own skin.
What is your favorite blog post that you seem to share with your clients most often? My favorite blog post to share with clients is "How Can I Fade My Acne Scars And Dark Marks?"I love sharing this with clients because it is a common question, and it has resonated with my own personal skincare journey as well.
What's the biggest mistake you find that people are doing to their skin that they shouldn't be? Over-exfoliation. This seems to be a recurring mistake amongst clients that I speak to, especially during those cold months. Winter cold tends to dehydrate the skin, causing flakiness, tightness, and redness—all of which point to a damaged barrier. The symptoms cause many to reach more for exfoliating products when really their skin needs more hydration.
Fun fact about you: I was born in Saint Petersburg, Russia! I moved to America when I was 4 years old with my mom when she won the Green Card Lottery.
If you could be an expert in something (other than skincare), what would it be? I do dream of one day becoming an inspirational figure in the world of self-care! That would definitely require some expertise in motivational speaking.
Do you have any advice for aspiring estheticians? Ask as many questions as you possibly can while in school. The skincare world is constantly changing. Therefore, the flow of new knowledge should never end. Don't ever stop learning. Sign up for professional skincare newsletters, attend workshops, and take webinars.
Favorite movie: The Green Book! I saw it recently, and I was smiling from beginning to end. It's funny, deep, artsy, beautiful, and historic all at once. It just so happened to win the Golden Globe for Best Motion Picture. 10/10 recommend.
Best vacation: My honeymoon in Costa Rica! I zip-lined through multiple rain forests, hiked a volcano, wandered through a sky-cloud forest, met some pretty funny wild monkeys, and learned so much about the culture and environment of this amazing country. It was such a dream!
What's the best piece of advice you've ever been given? "Stop constantly worrying about the next part of your life without realizing that you're already right in the middle of what you used to look forward to." I saw that somewhere recently, and it really hit home.
If you were to create a slogan for your life what would the slogan be? Rain or shine, be a sunflower in the lives of others!
Schedule a virtual consultation with Polina > here.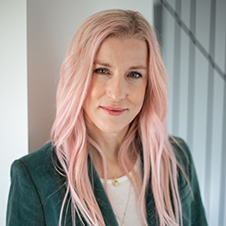 Celebrity Esthetician & Skincare Expert
As an esthetician trained in cosmetic chemistry, Renée Rouleau has spent 30 years researching skin, educating her audience, and building an award-winning line of products. Trusted by celebrities, editors, bloggers, and skincare obsessives around the globe, her vast real-world knowledge and constant research are why Marie Claire calls her "the most passionate skin practitioner we know."