Michelle has been an esthetician at Renée Rouleau Skin Care Spa in Plano, Texas for almost a year. She is very knowledgeable  in all Renée Rouleau procedures and philosophies.
Name:  Michelle Wyatt
Hometown:  Plano, Texas
Renée Rouleau esthetician since:  March 2017
Skin Type: #4 which is classified as oily/combination/sensitive/occasional breakouts. Want to know your skin type?  Take the Skin Type Quiz.
What are YOUR top three skin concerns? Clogged pores, oiliness, and sensitivity. My skin can get red easily so I have to treat it very gently.
What are your favorite Renée Rouleau Skin Care products and why? Hard to decide as they are all so good.
AHA/BHA Blemish Control Cleanser. I alternate this with a gentle cleanser to keep my pores clear. Whenever I meet a new client with breakout concerns, this is usually the first product I steer them toward.
Pore + Wrinkle Perfecting Serum. I see a noticeable difference the morning after using this product. It's so wonderful for smoothing surface texture!
Elderberry Soothing Toner. I love giving my skin some oil-free, yet calming hydration.
How is Renée Rouleau Skin Care different from other skin care spas and lines that you have had experience with? Renée hired me right out of esthetics school, so I don't have much experience with other lines! I will say that I always knew I wanted to work under Renée because I adore her philosophy on skin care: it's not one size fits all. I appreciate her attention to detail when coordinating skin care routines for so many different skin types.
Why did you decide to become an esthetician and what is your favorite part of the job? I enjoy helping people feel more confident in their appearance, which inevitably causes them to feel better from the inside. I do like to teach people new ways they can take care of their skin that they may not have known before as well.
What is a memorable success story of a time when you really made a huge difference in someone's life? I'm really building up a great repeat clientele and getting raves about their skin anytime I see them.
What is your favorite blog post that you seem to share with your clients most often? Recently, it has been the Guide to Retinol/Retinoids post! I refer so many clients to this one as there is tons of useful info in there.
What's the biggest mistake you find that people are doing to their skin that they shouldn't be? Not moisturizing or hydrating enough! Hearing about people "drying out" their acne or breakouts can make me cringe.
Fun fact about you: I worked in the craft beer industry for five years prior to esthetics school. I can tell you pretty much anything about beer.
If you could be an expert in something (other than skincare), what would it be? Makeup.
Do you have any advice for aspiring estheticians? There is so much to learn once you graduate. Take in as much as you can, be humble, and know that there is no such thing as being finished with your education.
Favorite movie: Interview with the Vampire (or just about anything with Brad Pitt)
Best vacation: Taking a weeklong trip to Disney/Universal Studios with my family a few years back.
What's the best piece of advice you've ever been given? Shoot for the moon, what's the worst that could happen?
If you were to create a slogan for your life what would the slogan be? It can always get weirder. Buckle up!
For a complete list of services offered, click here or download our brochure.
Schedule with Michelle online in PLANO > here.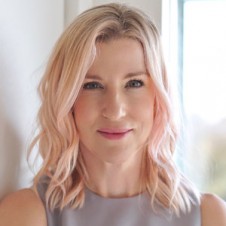 Celebrity Esthetician & Skincare Expert
As an esthetician trained in cosmetic chemistry, Renée Rouleau has spent 30 years researching skin, educating her audience, and building an award-winning line of products. Trusted by celebrities, editors, bloggers, and skincare obsessives around the globe, her vast real-world knowledge and constant research are why Marie Claire calls her "the most passionate skin practitioner we know."