Updated 12/21/17. Gráinne Noel has been a lead esthetician at Renée Rouleau Skin Care Spa in Plano, Texas for 20 years! (Read more about her recent 20th celebration here on Renée's Instagram.) She is a very knowledgeable and highly-trained esthetician in all Renée Rouleau procedures and philosophies.
Name: Gráinne (pronounced like Gronya)
Hometown: Aldershot in Hampshire, UK – a large army town in the south east of England
Renée Rouleau esthetician since: November 1997
Skin Type Number: #5 which is classified as normal, sensitive, red, anti-aging. Want to know your skin type? Take the Skin Type Quiz.
What are YOUR top skin concerns? Aging is my number one main concern. (Particularly the lines on my forehead and around my eyes.) I used to be really focused on managing my sensitivity and rosacea but the Renée Rouleau products and the various lifestyle changes I have made have really kept that all to a minimum. I do get occasional breakouts on my chin which leave post-breakout scars that take a long time to fade.
What are your three favorite Renée Rouleau Skin Care products and why?
Advanced Resurfacing Serum. This has made a big difference in the texture of my skin. It is so much smoother and has made my skin less sensitive!
Triple Berry Smoothing Peel. I love how it leaves my skin looking smoother and brighter—as well as the delicious natural scent of raspberry jam.

How is Renée Rouleau different from other skin care spas and lines that you have had experience with? Because Renée is an esthetician, she truly understands what is needed to make great products. Our line is catered to nine different skin types and this does really set us apart from other products. In the spa, by identifying our client's skin type, we can truly customize our services to our their particular needs. This all adds up to amazing results immediately and long-term.
Why did you decide to become an esthetician and what is your favorite part of the job? My own struggles with trying to deal with a combination of breakouts and rash prone, sensitive skin in my early 20s made me want to learn more about skin and help others with their skin related problems too.
What is a memorable success story of a time when you really made a huge difference in someone's life as it relates to their skin? My biggest success isn't just one particular case, it is having multi-generations of clients from the same families. As I've been working for Renée Rouleau for 20 years, I've had the chance to see clients get married, have children, and then give facials to their teenagers. It's great to see mothers passing down the importance of self-care to their sons and daughters.
Do you have any advice for aspiring estheticians? Never stop learning.
What is your favorite blog post that you seem to share with your clients most often? The Cure For Red, Sensitive, Extremely Dry, Flaky Skin. So many people need to understand why a damaged moisture barrier is the underlying cause of their skin sensitivities.
What's the biggest mistake you find that people are doing to their skin that they shouldn't be? Not wearing sunscreen every day. The research is 100% confirmed that it will slow down how your skin visibly ages. There are so many lightweight sunscreens available now like this one. There's just no reason why someone shouldn't be able to find one that is compatible with their skin type.
Fun fact about you: Most people think of me as English because of my English accent but I am 100% Irish. My parents moved to England shortly before I was born. I have three older sisters who were all born in Dublin. My parents chose a very traditional Irish name to make up for the fact that I wasn't born in Ireland. Gráinne translates to Grace in English.
Favorite Movie: If I have to pick just one, it would be Singing in the Rain.
If you could be an expert in something (other than skincare), what would it be? I would love to know lots of different languages.
Best vacation: My trips home to visit my family in England and Ireland.
What's the best piece of advice you've ever been given? Stop worrying.
If you were to create a slogan for your life what would the slogan be? Make mistakes, learn from them, and then move on.
For a complete list of services offered, click here or download our brochure.
Schedule with Gráinne online in PLANO > here.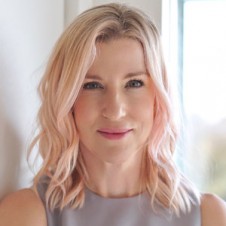 Celebrity Esthetician & Skincare Expert
As an esthetician trained in cosmetic chemistry, Renée Rouleau has spent 30 years researching skin, educating her audience, and building an award-winning line of products. Trusted by celebrities, editors, bloggers, and skincare obsessives around the globe, her vast real-world knowledge and constant research are why Marie Claire calls her "the most passionate skin practitioner we know."