It's a fact that regular exfoliation of the skin is an important part of a good anti-aging, blemish-reducing, skin care regimen.
To see if you have surface dry skin cells, try this simple test at home:
-Take a piece of clear tape and apply it to the forehead
-Rub it gently and remove
-Look at the tape, and if there are little pieces of flaky skin, then you need to exfoliate!
What skin care problems does exfoliating help to improve?
Blemished Skin…

Exfoliation should be the main focus of a homecare program for those wanting to reduce blemishes. By removing surface dry skin cells with facial scrubs (like Mint Buffing Beads) and mild exfoliating cleansers (AHA/BHA Cleansing Gel) you'll help to diminish the ability for acne-causing bacteria to thrive inside the pores, lessening blemish activity. Read why using acne products can cause more acne.
Post-breakout red/dark marks
A blemish usually lasts 5-7 days, but the red or dark mark from picking at the blemish, can linger for weeks— or even months. Post-breakout marks are caused from trauma to the skin cells caused by aggressively picking at blemishes. It is considered to be a scar but it will go away with time and increased exfoliation. By increasing your use of exfoliants (Glycolic Acid, Salicylic Acid, enzymes and scrubs) this helps to stimulate new and healthy skin cell growth while removing the scarred damaged cells. Out with the old, in with the new! In addition, using a skin brightener like our Vitamin C & E Treatment, can help expedite the healing process. Learn how to heal breakouts fast.
Clogged pores
Clogged pores aren't infected blemishes, but rather blackheads, small whiteheads, and little clogged bumps on the skin, often on the forehead. The same rules apply as with blemished skins. The more you remove surface dry skin cells (usually caused by using harsh, drying products), the less oil will stay trapped and congested in the pores.
Is your skin both dry AND oily? Read why the problem is your products, not your skin.
Hyperpigmentation / Brown Spots
These are the brown spots that come from age, pregnancy, hormonal changes, and genetics. These spots tend to become more apparent and darker as the skin ages. Exfoliation is beneficial for breaking up the pigmented cells to allow them to fade. Combined with a skin-lightening agent, such as Vitamin C (found in our Vitamin C & E Treatment) or Hydroquinone (available OTC or by prescription), exfoliation will help accelerate the fading process. Read more about how to get control of skin discoloration and hyperpigmentation.
Dry skin
Exfoliating is very important, especially in the winter. Often when the skin is dry, we tend to load up on heavier creams to compensate for the dryness. But dry skin means you have dry skin cell buildup. And the more you layer on the heavier creams, the more you are trying to re-hydrate dry skin cells—which makes no sense! Instead, increase your exfoliation to remove the dry skin cells, and then moisturize the new skin cells, resulting in a moister skin.

Those who desire smoother skin
One way to instantly smooth the skin is to exfoliate! When you rid the skin of the surface dry skin cells, you create a smoother appearance.
Those concerned about anti-aging
The skin's natural exfoliation process slows as the skin ages, resulting in an accumulation of dry skin cells. As you increase your exfoliation, you are tricking the skin into acting young again.
Read the various types of exfoliating acids for the skin.
Which skin care products are best for you? See our nine skin types or take the Skin Type Quiz and get products recommended.
Need expert advice from a licensed esthetician? Schedule a virtual consultation to get customized advice in person, over the phone or online via Skype or FaceTime.
For more expert advice check out the blog. Also sign up for our skin tip e-newsletter, follow Renée Rouleau on Twitter and Instagram and join the discussion on our Facebook page. You'll be your own skin care expert in no time. Get the #ReneeRouleauGlow!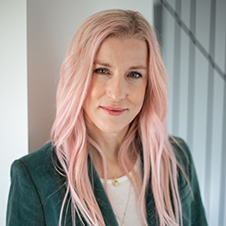 Celebrity Esthetician & Skincare Expert
As an esthetician trained in cosmetic chemistry, Renée Rouleau has spent 30 years researching skin, educating her audience, and building an award-winning line of products. Her hands-on experience as an esthetician and trusted skin care expert has created a real-world solution — products that are formulated for nine different types of skin so your face will get exactly what it needs to look and feel its best. Trusted by celebrities, editors, bloggers, and skincare obsessives around the globe, her vast real-world knowledge and constant research are why Marie Claire calls her "the most passionate skin practitioner we know."