Skin Care Tip: For end of summer skin repair, schedule a chemical peel to remove sun damaged skin. Minimal downtime with maximum results.
What is a chemical peel?
A chemical peel involves applying a chemical solution (acid) to skin of the face to remove and exfoliate the outer layers of skin so that a clearer, more evenly pigmented, glowing layer of skin can appear. The new, regenerated skin is usually smoother and less wrinkled than the old skin. It is also instrumental in the stimulation of fibroblasts and creating new collagen. The new skin also is temporarily more sensitive to the sun, so daily use of sunscreen is a must. Depending on the type of peel, they are often repeated every 1-6 weeks to achieve the desired results…
*Caution: when it comes to chemical peels, it's extremely important that the person administering the treatment is well-versed and experienced—if the peel isn't left on long enough, there will be no effect on the skin; if it's left on for too long, you run the risk of potential damage.
Here is more information about the various chemical peels available.
At Renée Rouleau, we offer a variety of corrective skin peels all with the goal in mind of giving aggressive skin-smoothing exfoliation but without the downtime and extreme irritation associated with chemical peels administered by a doctor. After all, who has the time to hibernate in their house for a week?
We love our Skin Repair Program. It's a series of three chemical peels and three hydrating skin repair treatments given over the course of six weeks. It's considered a controlled exfoliation since it's not a one-time treatment. It gives amazing results in smoother, healthier skin with a smaller-pored, brighter, clearer-skin look.
Or try our at-home skin peel Triple Berry Smoothing Peel. It gives incredible smoothing to the skin. Our clients love it
Which products are right for your skin? See our nine skin types and get products recommended.
Need expert advice from a licensed esthetician? Schedule My Skin Prescription to get personalized advice in person, over the phone or via Skype or Facetime.
For more expert skin advice, check out Skin Source–the A-Z guide on all things skin. Also sign up for our skin tip e-newsletter, follow Renée Rouleau on Twitter and join the discussion on our Facebook page. You'll be your own skin care expert in no time.
!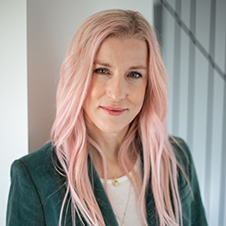 Celebrity Esthetician & Skincare Expert
As an esthetician trained in cosmetic chemistry, Renée Rouleau has spent 30 years researching skin, educating her audience, and building an award-winning line of products. Her hands-on experience as an esthetician and trusted skin care expert has created a real-world solution — products that are formulated for nine different types of skin so your face will get exactly what it needs to look and feel its best. Trusted by celebrities, editors, bloggers, and skincare obsessives around the globe, her vast real-world knowledge and constant research are why Marie Claire calls her "the most passionate skin practitioner we know."