Updated 4/10/16.
RECOMMENDED CHEMICAL PEEL FOR SKIN TYPE #8:
Vitamin A retinolic along with an exfoliating accelerator solution is best for skin type #8. A chemical peel using this ingredient will resurface environmentally damaged skin while smoothing lines and wrinkles, fade stubborn brown spots and reveal younger-looking skin.
What exactly is a chemical peel? A chemical peel involves applying a solution (acid) to skin of the face to remove and exfoliate the outer layers of skin so that a clearer, more evenly pigmented, glowing layer of skin can appear. The new, regenerated skin is usually smoother with fewer visible pores and fine lines than the old skin. It is also beneficial for the stimulation of fibroblasts and creating new collagen. The new skin also is temporarily more sensitive to the sun, so daily use of sunscreen is a must. Depending on the type of peel, they are often repeated every 1-6 weeks to achieve the desired results.
How much downtime can be expected? All peels are NOT equal and depending on what percentage of acids are used, the length of time it's left on the skin and what type of post-peeling solution is applied to the skin after will all determine how much or how little redness and peeling you will get. Even at its worst, the visible peeling can be minimized with our Pro Remedy Oil or a moisturizer. Most clients do not find it to be intolerable and do not need to modify their life to accommodate for the downtime. (Of course, you certainly wouldn't want to get a peel a few days before your wedding or other special event.)
Immediately after the peel: the skin will be a little pink and the skin will appear slightly shiny.
The first two days after the peel: the skin will be only slightly pink and the skin will start to feel tight.
Days 4-6 after the peel: the skin will be dry, flaking and/or peeling.
Day 7 and beyond: the skin has a fresh, smoother and more vibrant look! You'll love the results!
NOTE: If you want most of the dryness and flaking/peeling to occur on the weekend, then getting the peel done on a Wednesday is advised. If you want most of the dryness and flaking/peeling to occur during the week, then getting the peel done on a Friday or Saturday is recommended. At the time of your appointment, your esthetician will inform you of everything you need to know—especially how to care for your skin post-peel.
Schedule a chemical peel at Renée Rouleau now >
INFORMATION ABOUT SKIN TYPE #8
From day one of starting my esthetics career back in the late 1980s, I learned how every skin is unique and the standard dry, normal and oily way of classifying skin was simply too generic for the clients I worked with. What dry, normal and oily represents is how little or how much oil your skin produces, and while this is important for determining how light or heavy a moisturizer needs to be, it doesn't look at other important factors that are important to a person. These include brown spots or patches, redness, sensitivity, lack of a glow from poor circulation, all the various types of breakouts (cystic, pustular, papular)—and the list of concerns go on and on.
I believe there are nine different types of skin and it amazes me to this day that skin care companies can say their line is "suitable for all skin types" when all skins clearly have different needs. If you're truly looking for results, it's imperative that you understand your type of skin and treat it accordingly.
Do you have?…
-Skin that feels tight and dry year round
-Needs hydration and nourishment
-Enlarged pores mostly in t-zone, including blackheads
-Hyperpigmentation (brown spots from age, sun and hormones)
-A history of excessive sun exposure
-Visible broken capillaries from sun damage
-Loss of tone and elasticity
-A desire to have smoother skin texture
-Concerns with skin aging
If you are someone who wants clearer and smoother skin and have most ALL of these symptoms, then you are a skin type #8. If you have only some of these, but not all then you may be another skin type. Look at our nine skin types to find the perfect match for you.
RECOMMENDED SKIN CARE PRODUCTS FOR SKIN TYPE #8:
Dry, sun-damaged skin with loss of tone requires high concentrations of repairing AHAs to boost cellular turnover, bioactive peptides to allow a tightening deep within the skin and nourishing lipid-rich oils to provide needed moisture. Your skin will be exceptionally smooth and supple with less visible wrinkles. The result? Beautiful skin by Renée Rouleau.. The result? Beautiful skin by Renée Rouleau.
The Basics (3 products)
The Essentials Collection (6 products)
The Complete Collection (12 products)
RECOMMENDED READING FOR SKIN TYPE #8:
How To Prevent Lines And Wrinkles From Forming
Tips To Prevent Wrinkles
What's The Best Moisturizer For Dry, Flaky Skin?
Need expert advice from a licensed esthetician? Schedule a virtual consultation to get customized advice in person, over the phone or online via Skype or FaceTime.For more expert advice check out the blog. Also sign up for our skin tip e-newsletter, follow Renée Rouleau on Twitter and Instagram and join the discussion on our Facebook page. You'll be your own skin care expert in no time. Get the #ReneeRouleauGlow!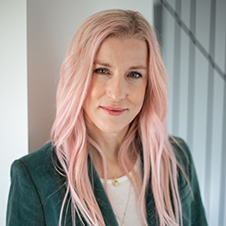 Celebrity Esthetician & Skincare Expert
As an esthetician trained in cosmetic chemistry, Renée Rouleau has spent 30 years researching skin, educating her audience, and building an award-winning line of products. Trusted by celebrities, editors, bloggers, and skincare obsessives around the globe, her vast real-world knowledge and constant research are why Marie Claire calls her "the most passionate skin practitioner we know."