I recently attended Cosmoprof, one of my favorite trade shows, in Las Vegas. It's the largest B2B (business to business) beauty show in North America, making it the best place to discover the newest trends as well as the latest in products, packaging, ingredients, equipment and more. Let me say, this show did not disappoint.
I visited all of the vendor exhibits, connected with many of my industry peers and took a few classes. All in all, my continued mission is to keep you up to date on the latest and greatest in skin care and to provide the best possible advice to my blog readers, customers, and clients.
Here is a recap of my 2019 Cosmoprof experience.
Beauty and Skincare Trends You Should Know About
While many trends come and go (and may be driven more by marketing buzz than by actual results), there were definitely a number of pervasive topics at Cosmoprof worth keeping an eye on. Here are the top "trends" I think you as a consumer should be aware of:
Retinol is Still #1—and for Good Reason
Retinol and retinoids continue to be popular ingredients and were being used in a variety of new products I saw at Cosmoprof. The popularity of retinol shows no signs of slowing down, which makes me really happy since it's an ingredient I've been promoting my entire thirty-year career as an esthetician. (Found in Advanced Resurfacing Serum.) Honestly, no other topical ingredient comes close to providing the anti-aging benefits retinol does, and there is a huge amount of research backing this.
What I saw trending at Cosmoprof was retinol continuing to increase in popularity and making its way into more products for areas other than the face, like neck creams and body lotions. Retinoids are a complex ingredient and need to be formulated in a way that allows them to bind to your cells' retinoid receptors, otherwise, your skin can't get the benefits. Because of this, prescription creams or gels were the only way to include retinoids in your routine for a long time. But if you've tried a prescription retinoid, you know that these can also be quite sensitizing. Luckily, recent innovations including gentler delivery systems and even new forms of retinoids have allowed for the inclusion of retinol/retinoids in a wider variety of products. It's promising to see that this ingredient is really becoming a staple in routines for both the face and body!
Read: 
Curious about the history of retinol in skincare?
Here's what happened when I met the doctor who got Retin-A FDA approved. 

Sun Protection in Forms Other Than Lotion
Traditional, lotion-based sunscreen is one of the most important anti-aging tools in any skincare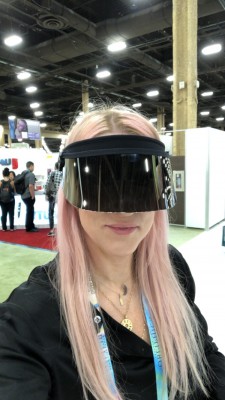 arsenal, but it can never protect your skin from the sun's rays 100 percent. Since there is so much awareness about sun safety in the beauty world these days, sun protection is expanding outside of just applying a lotion. One trend I saw at Cosmoprof was solar face shields. They are definitely odd-looking, but they would be especially great post-peel or post-laser when the skin is in desperate need of sun protection but too tender to apply anything topically. Even at the beach, I can see where this type of shield made by 
Bluestone Sun Shields
 is beneficial. I actually have seen some people wear these at the beach, so they are increasing in popularity.
Cannabis is Poised to Disrupt Virtually Every Consumer Industry
If you've been paying any attention to beauty trends at all, you probably won't be surprised to hear that cannabis (CBD) was everywhere at the show. It is being used in all categories of beauty, from skincare and haircare to makeup and oral care products. When it comes to cannabis products, however, consumer education is and will continue to be a key challenge. The CBD industry remains highly unregulated, and not enough studies have been done to properly determine the efficacy and safety of both short- and long-term use. When it comes to skincare, whether or not CBD products will be more effective than other topical ingredients (or effective at all, for that matter) remains to be seen.
I noticed that CBD products are mainly being targeted toward improving certain inflammation-related conditions, like acne and sensitivity. It's all fairly new and much research still needs to be done, but I think it's a really exciting time to see what will be discovered. In the meantime, it's important that companies be responsible when marketing CBD products by providing this statement on the packaging to offset their claims, as most have yet to be proven:
"

These statements have not been evaluated by the Food and Drug Administration. This product is not intended to diagnose, treat, cure, or prevent any disease."
Positive Discussion About Imperfections Will Lead to Anti-Taboo Products
A lot of what was discussed at the show revolved around sexual wellness, hair loss, mental health, fertility, female life cycle stages, and hormonal changes. Because of this, we have seen and will continue to see products that specifically address these important "taboo" concerns. In the world of social media, there are most certainly people who are being bravely using their voice to address these topics that generally have not been discussed. I think this is very exciting and there is some great innovation happening from a non-prescription standpoint so these products will become easily accessible to all. As someone who just turned fifty with hormonal changes right around the corner, I am certainly interested.
Personalization
Based on what I saw, customization in all areas of beauty will definitely continue to advance. This is especially true with all the new technology available these days! Innovative products are seeking to target mood, season, DNA, gender, beliefs, epigenetics, biohacking and skin and hair types.
Certainly in my skincare line, we seek to provide as much customization as possible by having a line of products that cater to 
nine different skin types
 instead of the standard dry, normal and oily types still often used today. Take the 
Skin Type Quiz
 to find out yours! We also offer
virtual consultations
with our trained estheticians who will help you build a personalized routine.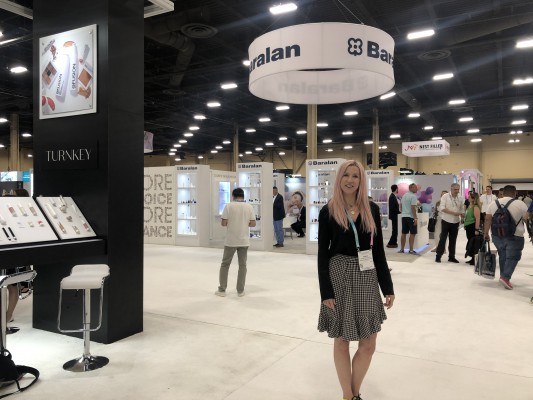 Beauty with a Conscience
Arguably the biggest topic at this year's Cosmoprof was sustainability. As I walked the vendor floor speaking with executives, I gained valuable insights into what is being done to solve the many issues surrounding packaging. We in the beauty industry are all doing our part towards achieving a more sensible life cycle when it comes to packaging, which is very encouraging. I absolutely want to educate my blog readers and customers, sharing viable solutions while also dispelling false narratives. The most important take-away is this: regardless of which avenue we take (both as producers and consumers), any improvements we start to make today, no matter how small or imperfect, will have a much larger impact in the future than we realize. The efforts only become actual solutions if both the public and the companies each do their part. These were some of the most common sustainability solutions I saw being explored at Cosmoprof:
Sustainable Sourcing
The most viable options right now seem to be sugarcane or bamboo packaging. While these plant-based materials are certainly more sustainable, they are still manufactured in large factories, same as plastic. And at the end of the day, these items may be recyclable, but they are not biodegradable, which means there is still a waste issue. Also, any reliance on sugarcane must take into account the farming of the stalks and the environmental impact of that farming as well.
One of our biggest concerns when it comes to alternative packaging, whether it is sugarcane, bamboo, or another plant-based product, is how that material reacts with our formulas. So, when people ask why switching over from one container to another takes so long, it's because of the meticulous testing our labs go through to ensure our formulas won't be negatively affected by new packaging materials.
Refillables
The idea of refillables isn't necessarily new, but it's something I saw being actively explored by vendors at Cosmoprof. "Refillables" is just what it sounds like—instead of buying a brand new product, consumers refill the containers they have once they run out of something. One of the limitations of this process is geography. Refilling products requires a central filling location, which will always be located in a metropolitan area. Of course, this leaves out a large segment of the population. Another option is customers sending bottles back to the vendor for future use, but this still requires a careful process to clean, sanitize, and reprint the bottles. In the end, companies haven't found a way for this to be cost-effective as this process will always be more expensive than simply producing a new bottle. Despite all these challenges, refillables are an exciting idea and at Renee Rouleau, we are exploring and testing refillable options, so stay tuned!
Recycling, Not Trashing
This is an area where the consumer must do their part to dispose of the spent container correctly. The steps to properly recycle a carton can vary greatly from every state, county, township, etc. Please check with your local municipality on how you can do your part. The recycling industry is unfortunately overloaded and their infrastructure continues to be stressed. Even if we all do our part, we are still reliant on the waste industry to actually recycle the products and not simply dump everything in the landfill.
While there are certainly a lot of challenges surrounding the issue of sustainability, my company and I are committed to exploring all available options to reduce our carbon footprint, decrease plastic usage and make any plastic waste easier for our customers to recycle. All of our boxes are plain, corrugated material made from 100% recycled content. Our kraft paper inserts are made from 100% recycled content and are also biodegradable. We all need to continue to explore and pursue more sustainable, sensible options. I read a quote that says, "We don't need a million people being perfect right now, we need 10 million people trying their best." No step toward sustainability is too small!
Connections
The skincare industry is a very friendly and tight-knit community, especially for those of us who are female founders and influencers at the top of our game. We share our knowledge with each other freely and treat each other with the utmost professionalism. I'm grateful to have industry friends that I enjoy spending time with. Caroline Hirons, Joanna Vargas, and Shani Darden are a few of my favorites. At the show, I had the pleasure of meeting and spending time with Jillian Wright of Indie Beauty, Georgia Louise (a fellow esthetician) and Jessica Richards of Shen Beauty—all of whom I knew from Instagram but had never met in person. I cherish all of my female-founder relationships.
All in all, Cosmoprof was a great show to attend and it certainly got the wheels turning in my head. In our company, one of our core values is to "learn and grow" and the desire for both me personally as well as company-wide to expand our knowledge is what I attribute to why we have been in business 23 years. I hope you found this post insightful!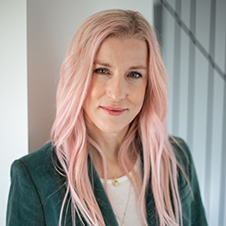 Celebrity Esthetician & Skincare Expert
As an esthetician trained in cosmetic chemistry, Renée Rouleau has spent 30 years researching skin, educating her audience, and building an award-winning line of products. Her hands-on experience as an esthetician and trusted skin care expert has created a real-world solution — products that are formulated for nine different types of skin so your face will get exactly what it needs to look and feel its best. Trusted by celebrities, editors, bloggers, and skincare obsessives around the globe, her vast real-world knowledge and constant research are why Marie Claire calls her "the most passionate skin practitioner we know."