I recently returned from a trip to Europe where I attended Paris Beauty Week in France, an amazing trade show featuring new innovations in skin care ingredients and technology – a true playground for this esthetician! In addition, I met with clients to consult about their skin and visited my husband's family.
Whenever I'm in France, I'm always observing how French women care for their own skin. This includes getting facials to talk with estheticians to hear about their approach to skin care as well as in-depth discussions with my French clients. (Read my French Skin Care Investigation.)
What I am noticing more and more through conversations with my French clients and colleagues, as well as my husband's family members who are in the beauty business is how many French women are craving results from both their skin care products and professional facial treatments that they don't feel are available in France. So it got me thinking, are French women converting to American skin care products and adopting our habits?
My answer is yes, many certainly are since they tell me so. Here's why:
-Many French women will only cleanse their skin once a day – instead of twice. The French are all about keeping moisture in the skin and many estheticians will tell their clients that it's not necessary to cleanse the face in the morning since you don't want to wash away your previous night skin treatments.
Personally, I don't believe in this philosophy because as long as you're not washing your face with something harsh (which is why I have sulfate-free gel cleansers and cleansing lotions in my line and I am against using drying bar soaps and harsh, detergent-based cleansers), you won't strip the skin of its moisture. Secondly, in order to get the best performance from your daytime antioxidant serums and sunscreen, you need a clean canvas for the products to work their best. And lastly, your skin produces sebum (oil) while you sleep, and oil breeds bacteria resulting in breakouts, which are never a good thing. Read more about why you should cleanse your skin in the morning. See Luxe Mint Cleansing Gel–the perfect pick-me-up for tired skin!
Many of the French women I have spoken with are starting to feel that maybe twice a day cleansing would be more beneficial for their skin, despite what they have always been taught.

– The French focus is predominately about moisturizing – and less about exfoliation. When I get facials in France, there is very little exfoliation included, because French estheticians don't believe in it as much American estheticians do. For home care, the French are all about serums, masks, eye creams and moisturizers, and often a facial scrub is an afterthought. Acid serums are hard to come by in France, whereas they are practically in every U.S. product these days!
Many French women read American magazines and they see how much attention we put on exfoliation, particularly with professional chemical peels and at-home peels like Renée Rouleau Triple Berry Smoothing Peel. Especially for those with aging, sun damage, brown spots, lines and wrinkles, clogged pores or blemishes – they realize using a facial scrub once a week is not enough to give them the best results for their skin. Without a doubt, regular use of exfoliants can transform your skin. Read: Exfoliating Acids: Skin Tips For Using Them Correctly
– Wearing sunscreen daily is not encouraged – unlike in the United States. A French esthetician once told me "You Americans are into that sunscreen thing." And in every facial I have ever had in France, including the one I had on this recent visit, sunscreen has never been applied to my skin at the conclusion of the facial, even when it's in the middle of the day and the sun is shining.
My French clients have heard from both me and the American magazines that sunscreen should be worn daily and they are starting to adopt this habit. While French skin care products certainly include sunscreens, they just aren't promoted by many professionals. It's a shame considering the #1 reason for premature aging is from daily UV exposure and sunscreen is the most biologically active ingredient in skin care products. Sunscreen should be worn 365 days a year, rain or shine, and inside and out since damaging rays can come through windows. See our popular Daily Protection SPF 30 and our ColoreScience SPF-infused mineral line.

Read: My Five Favorite Tips For Protecting Your Skin From The Sun
I am frequently hearing from French women, "I don't think I can use French skin care products any longer. While it's more costly to have U.S. products sent to me, I feel it's worth it for the improvements I'm seeing in my skin."
Without a doubt, the French have been pioneers for facials and the importance of caring for your skin, far earlier than Americans ever were. Being an esthetician in France is a popular and well-respected industry and facial salons are abundant, more so than in the United States. I have learned a lot of great techniques from my French colleagues and I certainly feel many of their philosophies about skin are very valid.
But our approaches to skin care can be quite different and each person needs to decide what is best for them based on the results they want to achieve. At the end of the day, what's important is how you feel about your skin when you look in the mirror. And my wish for you is healthy, glowing and beautiful skin – no matter which philosophy you may subscribe to.
Read: Six French Beauty Tips
Read: Skin Firming Tips For Those In Need Of A Lift
Read: Five Skin Care Ingredient Myths You Need To Know
Which skin care products are best for you? See our nine skin types or take the Skin Type Quiz and get products recommended.
Need expert advice from a licensed esthetician? Schedule a virtual consultation to get customized advice in person, over the phone or online via Skype or FaceTime.
For more expert advice check out the blog. Also sign up for our skin tip e-newsletter, follow Renée Rouleau on Twitter and Instagram and join the discussion on our Facebook page. You'll be your own skin care expert in no time. Get the #ReneeRouleauGlow!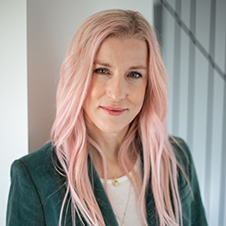 Celebrity Esthetician & Skincare Expert
As an esthetician trained in cosmetic chemistry, Renée Rouleau has spent 30 years researching skin, educating her audience, and building an award-winning line of products. Trusted by celebrities, editors, bloggers, and skincare obsessives around the globe, her vast real-world knowledge and constant research are why Marie Claire calls her "the most passionate skin practitioner we know."