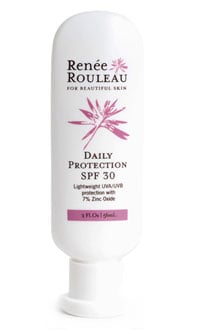 Skin Care Tip: Chemical-free sunblock ingredients, like Zinc Oxide and Titanium Dioxide are commonly used in today's sun protection products due to their light weight, greaseless feel making them very compatible for oily and acne-prone skins. The problem is that Titanium Dioxide can leave a white-ish cast on the skin so it's not ideal for darker skin. If you experience this problem, instead choose sun protection products with Zinc Oxide like our Daily Protection SPF 30 which is completely transparent. You'll get excellent UVA/UVB broad spectrum protection while it disappears into the skin.
Which products are right for your skin? See our nine skin types and get products recommended.
Need expert advice from a licensed esthetician? Schedule My Skin Prescription to get personalized advice in person, over the phone or via Skype or Facetime.
For more expert skin advice, check out Skin Source–the A-Z guide on all things skin. Also sign up for our skin tip e-newsletter, follow Renée Rouleau on Twitter and join the discussion on our Facebook page. You'll be your own skin care expert in no time.