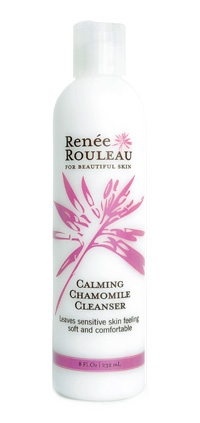 Cleansing creams have long been known for their ability to effectively dissolve and digest makeup (especially foundation) and to thoroughly clean the skin; however, they often contained pore-clogging ingredients such as Mineral Oil and were often, "wipe-off" formulas.  They also left a heavy residue on skin that made it difficult for a toner, serum and moisturizer to properly penetrate the skin.
Our Calming Chamomile Cleanser is a cleansing lotion for sensitive skin that was created to effectively remove makeup, but contain lighter emollients designed with a "rinse-off" formula that doesn't leave behind a greasy residue.
It provides soothing comfort to skin with redness, irritation, and rosacea-like symptoms. This lotion-like cleanser gently dissolves oil, dirt, and makeup without clogging pores or leaving a greasy residue behind.
Key Ingredients in Calming Chamomile Cleanser
-Chamomile –has anti-inflammatory, anti-itch, and soothing properties. Also contains antioxidant properties
-Vitamin A – increases skin elasticity…
-Vitamin E – an antioxidant protecting skin from the adverse effects of oxidative stress including photoaging (sun damage)
-Aloe Vera Extract – a soothing and hydrating gel; keeps skin calm, moist and supple
How to properly remove your face makeup: Apply a quarter-size of cleansing lotion for your skin type to dry skin and massage in circular motions for 30 seconds. Wet your fingertips and massage through again for 10 seconds. Rinse well and wipe over face with a baby washcloth (they are gentler than a regular wash cloth) or Renée Rouleau Facial Sponges. *You must give a final wiping action with the wash cloth or sponges because that is what actually lifts off the makeup that has been dissolved. In France, French women use cleansing lotions to clean their skin, they rarely use foaming cleansers.
Which cleansing lotion is right for you? Check out our nine skin types.